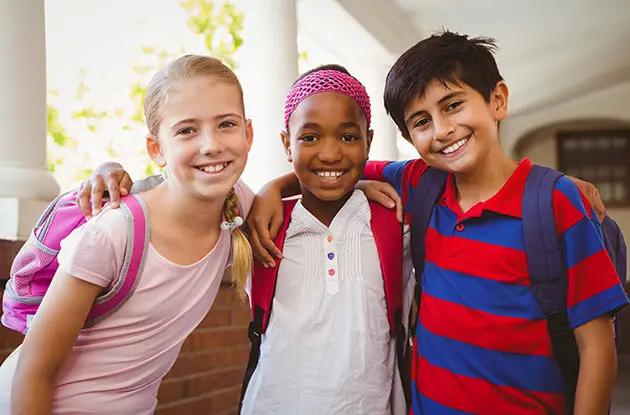 How to Help Your Kids Have a Healthy School Year
Stacy Simon, the Senior Editor of News for the American Cancer Society, shares her tips for going back to school.
Get Sanity Saving Ideas and Activities
At-Home Fun for Kids
Get indoor activity ideas
Choose lots of fruits, vegetables, and whole grains. Healthy eating includes a lot of colors, like green salad, orange carrots, and red strawberries, and it makes lunch more appealing.
Pack water, 100% fruit juice, or plain low-fat or skim milk to drink. Sports drinks and juice drinks have added sugar and a lot more calories.
Whole wheat and multi-grain are much healthier than the refined grains found in white bread, cereals, and pasta. Brown rice is also a good choice.
Choose a variety of foods that contain proteins, carbohydrates, and healthy fats. For example, try lean meats, cheese, whole-wheat crackers, peanut butter, hummus, and low-sugar yogurt.
Kids need some fat in their diet, but fried foods have high amounts of fat, especially the bad type of fats. Try healthier options like grilled chicken or baked chips.
Sleep help for teens
If your teenager has trouble waking up for school in the morning and is grumpy during the day, it may be more than just typical teen behavior. They may not be getting enough sleep. The National Sleep Foundation says most teens are not getting the sleep they need to function best: 8-10 hours each night. Teenagers who do get enough sleep have been shown to get better grades in school, have a lower body mass index (BMI), and suffer less from depression and thoughts of suicide. They also report feeling happier and getting along better with family members. Teenagers who don't get enough sleep are more likely to become drowsy while driving, which is extremely dangerous for themselves and others.
To help your teenager get more sleep at night, you can:
Set a consistent bedtime, even on weekends.
Keep computers, gaming systems, cell phones, and TV out of your teen's bedroom.
Cut out caffeine after lunchtime.
Create a relaxing bedtime routine that includes reading, listening to music, or taking a bath.
Be a good role model by getting enough sleep yourself.
Talk to your teen about the importance of sleep. If your teenager complains about difficulty falling asleep or staying asleep and home remedies have not helped, discuss the problem with your family doctor.
American Cancer Society
132 w 32 st
1-800-227-2345
www.cancer.org
Want more content like this? Like us on Facebook!