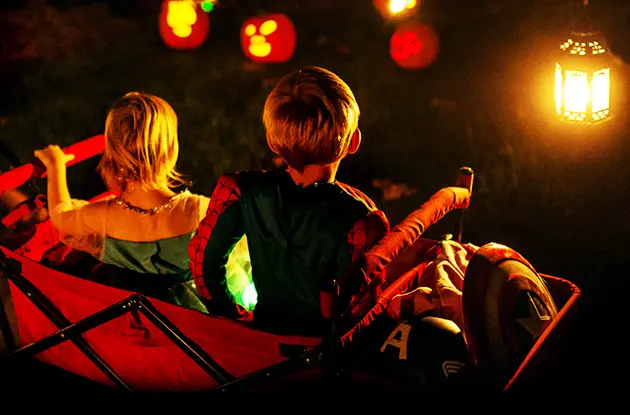 Halloween for Kids: Haunted Houses, Corn Mazes, and Pumpkin Activities in the NYC Area
Let's get spooky!
Don't miss out on family fun ideas!
Want more family fun ideas?
Get them delivered to you!
RELATED: Find After-School Activities in Brooklyn

Manhattan Halloween Activities
Museum of Natural History 23rd Annual Halloween Celebration
Central Park West at 79th Street, Upper West Side
212-769-5100
Technically this isn't a haunted house, but we'll let that slide: It's a chance to experience the Halloween version one of NYC's most iconic buildings. Magic, crafts, and trick-or-treating are some of the top attractions; be sure to say hello to Clifford and Curious George if you see them roaming the halls!

Central Park Conservancy Halloween Parade and Pumpkin Sail
Harlem Meer, East Side from 106th Street to 110th Street, Harlem
212-310-6600
After pre-registering for your 'flotilla,' bring your pre-carved pumpkin or jack-o'-lantern for a sunset journey across the Harlem Meer (note: Arrive early before it reaches capacity!). Other festive activities include a parade and arts and crafts.
RELATED: Find After-school Activities in Manhattan

Nassau County Halloween Activities
Rise of the Jack O'Lanterns' Garden of Gourds
71 Old Westbury Road, Old Westbury
516-252-3392
This event features more than 5,000 hand-carved glowing pumpkins and live celebrity carving artists. Follow the jack-o'-lantern walking trail made extra festive with an original Halloween-themed musical score. Stop by the Jack O'Lantern Café for tasty treats from local bakeries.

Bayville Scream Park
8 Bayville Ave., Bayville
516-624-7433
Amusement park enthusiasts will want to take advantage of unlimited one- and two-day passes to the scream park, featuring tamer versions of the park's nighttime haunted houses. Other fun activities include the tombstone treasure hunt, storytelling and Halloween arts and crafts.

Suffolk County, LI, Halloween Activities
Chamber of Horrors
1745 Express Drive N., Hauppauge
Great for groups (you can buy tickets in advance for specific dates and times) and younger children: This haunted house offers family days, when costumed guides provide tours of the house with the lights on and without spooky noises. Bring your camera for a memorable post-tour photo with your guide!

Gateway's Haunted Playhouse
215 S. Country Road, Bellport
631-286-1133
This haunted house also offers food and drink, souvenirs, and a Not so Scary Kid's Adventure for children younger than 12 who may not be suited for the original Haunted Playhouse. A limited amount of Fast Passes are available for those who want to skip the line.

Harbes Family Farm
715 Sound Ave., Mattituck
631-298-0800
Enjoy a night maze on Saturdays, Oct. 10-26, plus Oct. 13, from 7-9:30pm.

The Haunted Mansion of Melville
26 Pinelawn Road, Melville
631-271-3276
Those with young children can visit the daytime corn maze on Schmitt's Family Farm; older kids who scare less easily should opt for Schmitt's Haunt, which offers a mansion, stage show, and nighttime corn maze. All are haunted by a doctor who 'lives' at the farm, who became possessed after given a book of ancient texts by a former patient.

Pumpkin Park at Adventureland
2245 Broad Hollow Road (Route 110), Farmingdale
631-694-6868
Sick of haunted houses? Visit Pumpkin Park on Oct. 19-20 for haunted train rides instead: The park offers two, one for children of all ages, and a scarier version for teens and adults. On Oct, 26-27, the last weekend of the park's season, the attraction accepts food, personal care items, and/or pet food donations to Helping Hands Foundation.

Fairfield County, CT, Halloween Activities
The Great Pumpkin Festival
2725 Main St., Stratford
There aren't any illuminated jack-o'-lanterns here, but you'll want to hit this festival to see the Great Pumpkin Carving Contest, where entrants whittle 100-pound pumpkins into unforgettable works of art. Children are encouraged to wear costumes and participate in face painting and horse-drawn hayrides.

Wells Hollow Creamery/Farm
656 Bridgeport Ave., Shelton
203-926-0101
While the corn maze at Wells Hollow Farm is open Saturday-Sunday from late September through October during the day and at night (reminder: bring your flashlight!), you'll want to save time to savor one of more than 50 flavors of ice cream from the creamery on the 3,000-square-foot patio. Look out for seasonal fall flavors.

Plasko's Farm
670 Daniels Farm Road, Trumbull
203-268-2716
The corn maze is open to the general public every weekend from 10am-6pm until Oct. 31. No reservation is required for the maze or tractor hayrides. The farm also offers an Educational Weekday Group Package and accepts reservations for school field trips, youth/adult organizations, business outings and birthday parties.
Bergen County, NJ, Halloween Activities
Abma's Farm Market and Garden Center
700 Lawlins Road, Wyckoff
201-891-0278
This 34-acre farm dates back to the 1790s; the homestead and outbuildings are well preserved and kept in their original state. Take part in hayrides, pony rides, and petting zoo activities. Pick pumpkins from the patch and check out the market for apple cider doughnuts.

Halloween Haunted Harvest
East Ridgewood Avenue and Oak Street, Ridgewood
Join the Ridgewood Chamber of Commerce for this event at Van Neste Square in Memorial Park on Saturday, Oct. 26 from 12-3pm (weather permitting). Details were not available at time of publication.

RELATED: Find the Best Family Activities in Our Newsletter

Looking for more family fun this season? Get our FREE fall activities e-book!
Want more content like this, receive our Scoop packed with great ideas?