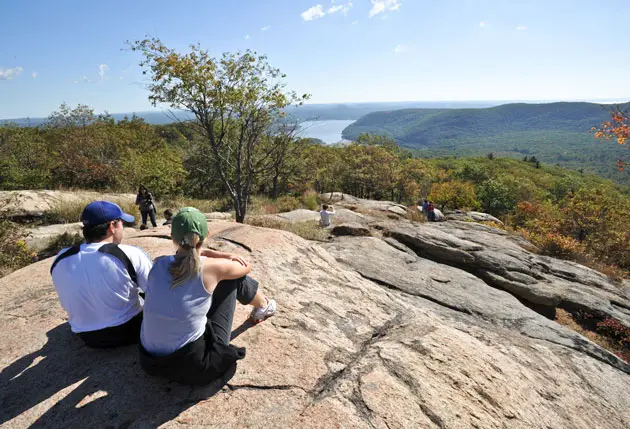 Hiking and Nature Trails Near NYC
Don't miss out on family fun ideas!
At-Home Fun for Kids
Get indoor activity ideas
Camp Hero State Park
1898 Montauk Highway, Montauk
Trails for hiking, biking, horseback riding, and cross-country skiing alongside ocean views

Cathedral Pines County Park
Yaphank-Middle Island Road, Middle Island
Loop trail featuring wild flowers

Caumsett Historic State Park
25 Lloyd Harbor Road, Lloyd Harbor
Miles of hiking, biking, cross-country skiing, and nature trails over acres of woodland, meadows, rock shoreline, and salt marsh

Cedar Creek Park
3340 Merrick Road, Seaford
The 259-acre park features walking and jogging trails, as well as bike paths.

Cedar Point County Park
5 Cedar Point Road, East Hampton
Large park with nature hiking trials and views of Gardiner's Bay

Cold Spring Harbor State Park
95 Harbor Road, Cold Spring Harbor
Hiking offering views of Cold Spring Harbor

Connetquot River State Park Preserve
Sunrise Highway/Route 27, Oakdale
Features 50 miles of hiking, horseback riding, cross-country ski, and nature trails

Gardiner County Park
Montauk Highway, Bayshore
Trails on the property of the Sagtikos Manor Estate

Garvies Point Museum and Preserve
50 Barry Drive, Glen Cove
Includes 5 miles of marked nature trails, as well as trails for the visually impaired

Heckscher State Park
Heckscher Parkway, East Islip
Hiking trails in the "Home of the White-Tailed Deer"

Hempstead Lake State Park
Lakeside Drive, West Hempstead
Hiking, biking, and cross-country skiing trials alongside Hempstead Lake

Hither Hills State Park
164 Old Montauk Highway, Montauk, NY
Trails and packed sand roads with stunning water views

Indian Island County Park-Riverhead
Cross River Drive, Route 105, Riverhead
Hiking trails at the head of the Peconic River

Lakeland County Park
Johnson Avenue, Islandia
Nature trail-boardwalk over the head-waters of the Connetquot River.

Massapequa Preserve
East Merrick Road, Seaford
Hiking and biking trail alongside a stream and gardens

Muttontown Preserve
34 Muttontown Lane, East Norwich
Nassau County's largest nature preserve with miles of marked nature trails

Nissequogue State Park
799 Saint Johnland Road, Kings Park
The hiking trail provides views of the Nissequogue River and Long Island Sound.

Norman J. Levy Overlook Park and Preserve
1600 Merrick Road, Merrick
Three miles of hiking and jogging trails with 18 exercise stations.

Orient Beach State Park
40,000 Main Road, Route 25, Orient
Hiking, biking, and nature trails along the waterfront

Peconic Dunes County Park
Sound View Avenue, Peconic
A 36-acre park with hiking opportunities

The Reverend Arthur Mackey Sr. Park
Lakeside Drive, Roosevelt
Three miles of nature trails

Robert Cushman Murphy County Park
Old River Road, Manorville
Hiking through a watershed for the Peconic River

Robert Moses State Park
Robert Moses Causeway, Fire Island
Nature, hiking, and cross-country skiing trails with beautiful views

Sears Bellows County Park
Bellows Pond Road, Hampton Bays
Extensive trail system for hikers and horseback riders

Shadmoor State Park
900 Montauk Highway, Montauk, NY
More than 2,400 feet of ocean beach and hiking trails

Southaven County Park
Victory Avenue, Brookhaven
Hiking alongside the Carmans River

Sweetbriar Nature Center
62 Eckernkamp Drive, Smithtown
Features 54 acres of hiking and nature trails with views of the Nissequogue River

Terrell River County Nature Preserve
20 Main Street, Center Moriches
The 263 acres of park land are open for hiking and bird-watching.

Theodore Roosevelt County Park
Montauk Highway, Montauk, NY
Features 3½ miles of self-guided nature trails

Trail View State Park
8101 Jericho Turnpike, Woodbury
Hiking and biking trails on hilly terrain and open fields

West Hills County Park
Sweet Hollow Road, Hunington
Trails include the historic Walt Whitman Trail, which leads to Jayne's Hill, the highest point on Long Island.

Wildwood State Park Beach
790 Hulse Landing Road, Wading River
Hiking and cross-country skiing trails in a park along the Long Island Sound

Hiking in Fairfield County, CT
Audubon Center of Greenwich
613 Riversville Road, Greenwich
Walking trails amongst seven nature sanctuaries

Bartlett Arboretum
151 Brookdale Road, Stamford
Hiking trails through gardens, forests, and around a 2-acre pond

CT Audubon Society Nature Center
2325 Burr Street, Fairfield
Larsen Wildlife Sanctuary features 7 miles of trails and boardwalks.

Darien Nature Center
120 Brookside Road, Darien
Several walking trials with views of wildlife and flora

Devil's Den Preserve
33 Pent Road, Weston
The largest preserve in Fairfield County inlcudes 20 miles of trails.

Earthplace
10 Woodside Lane, Westport
The nature center and wildlife sanctuary provides scavenger hunts along the trails.

Indian Well State Park
Howe Avenue, Shelton
The park includes hiking and 15-foot waterfalls.

Mianus River Preserve
Westover Road, Stamford
Miles of rolling trails alongside the Mianus River

New Canaan Nature Center
144 Oenoke Ridge, New Canaan
Arboretum and nature preserve with 2 miles of crisscrossing trails

Ordway Preserve
165 Goodhill, Weston
Features 62 acres of dontated land with trails

Weir Farm National Historic Site
735 Nod Hill Road, Wilton
The park bordered by a 110-acre network of trails called the Weir Preserve.
RELATED: Hiking and Nature Trails in Upstate New York
Want more content like this? Like us on Facebook!