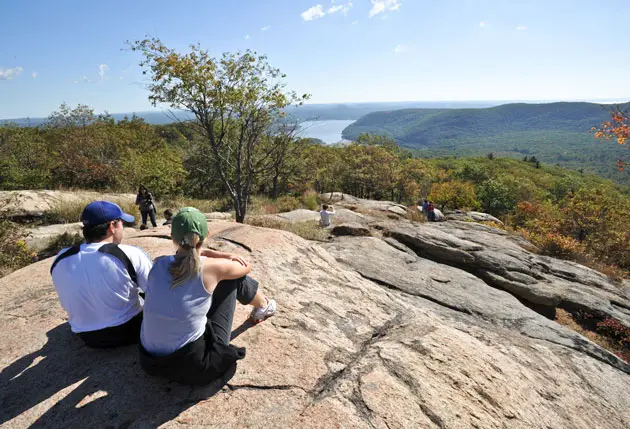 Where to Hike Trails in the New York Metro Area
These trails and nature preserves will provide the whole family with exercise and a much-needed breath of fresh air!
Get Great Family Activities!
Get Great Family Activities!!
Arriving weekly
Sam's Point and Verkeerderkill Falls
400 Sams Point Road, Cragsmoor
(201) 512-9348 (NY NJ Trail Conference Number)
This trail features one to the largest waterfall in the Shawangunks, Verkeerderkill Falls. The trail also features 7.4 miles of trails to wander and the route is dog friendly.
Vernooy Kill Falls (Sundown Wild Forest)
Upper Cherrytown Road, Kerhonkson (Take Route 209 to Cherrytown Road to Upper Cherrytwon Road)
(845) 256-3000 (Department of Environmental Conservation Region 3 New Paltz Office)
The section of Sundown Wild Forest features a 11.2-mile trail with the gorgeous Upper Falls. Below the falls is the stone wall that used to be the "Cornelius" Vernooy Mill Complex, to which the section gets its name.
Hiking Trails in Greene County
Cohotate Preserve
Route 385,Town of Athens
(518) 622-3620 (Greene County Soil and Water Conservation District Number)
The trail is a great place to hike and view a wide variety of species, from bald eagles to blue herons.
Hiking Trails in Putnam County
Constitution Marsh Audubon Center & Sanctuary
127 Warren Landing Road
(845) 265-2601
An Audubon New York Important Bird Area, the trails feature many species of birds to watch along with gorgeous views of the marshes in Putnam County in a brief, approximately one-mile trail.
Denning Hill
Philipstown
A great viewpoint to overview the New York State landscape along the Appalachian Trail.
Lost Pond at Manitoga Preserve
584 9D, Garrison (Public Entrance)
(845) 424-3812
The Lost Pond Trail is a 1.5-mile, moderate loop at the larger park. The trail has access to three viewpoints while also connecting to the Osborn Loop and the Appalachian Trail.
Ninham Mountain
Town of Kent OR Gipsey Trail Road, Carmel Hamlet
(845) 256-3076
The trail provides a wide variety of activities, from hiking and biking to fishing and horseback riding.
Hiking Trails in Dutchess County
Hudson River at Staatsburgh Mills Mansion Park
75 Mills Mansion Drive Number 1, Staatsburg
(845) 889-8851
The site is home to an iconic house from America's Gilded Age. Now, the site is great for tours of the Staatsburgh Mansion and also hiking along the Hudson River.
Pawling Nature Reserve
20-66 Quaker Lake Road, Pawling
(518) 690-7878 (New York State Conservancy phone number)
The park features an assortment of nature communities, Hammersley Ridge, and great views of the Great Swamp and Harlem Valley
Poet's Walk Romantic Landscape Park
776 River Road, Red Hook
(845) 473-4440 (Scenic Hudson number)
Named after poets like Washington Irving who walked the same paths, the 120-acre scenic park features a wide variety of inspirational scenic views.
Rudd Pond Area (in Taconic State Park)
59 Rudd Drive, Millerton
(518) 789-3059
This is a gorgeous spot to camp along the 62-acre pond. While you're there, take a hike along the 16-mile Taconic State Park or enjoy kayaking, canoeing, or swimming in the pond. (NOTE: you have to bring your own canoe. You can rent a row boat or canoe from the park)
Schaghticoke Mountain
Near Dover
Connecticut Address - Schaghticoke Road, Kent
The mountain straddles the border between Connecticut and New York. The mountain is a great place to go on a hike and view a portion of the Appalachian trail.
Thompson Pond
261 Lake Road, Pine Plains
(212) 997-1880 (Nature Conservancy NY Number)
At the base of the Stissing Mountain, the pond is a great area to hike and view the wonderful wildlife surrounding the pond, cattail marsh, swamp and upland forest. (NOTE: This trail is currently under construction).
Tivoli Bays
Cruger Island Road, Tivoli
(845) 256-3000 (Department of Environmental Conservation Region 3 New Paltz Office)
The site has two large sites at the East Shore of the Hudson River, Tivoli North Bay and Tivoli South Bay. The site has great freshwater marshes to walk along and observe, along with hiking, biking along the Kidd Lane Entrance, and canoeing.
Hiking Trails on Long Island
Bayard Cutting Arboretum State Park
440 Montauk Highway, Great River
(631) 581-1002
Manor house and hidden oak cafe closed until further notice. The arboretum grounds are open during regular hours.
Belmont Lake State Park
Southern State Parkway, Exit 38, North Babylon
(631) 669-1000
All trails open.
Bethpage State Park
99 Quaker Meetinghouse Road, Farmingdale
(516) 249-0701
Hiking trails and golf courses are open.
Caleb Smith State Park Preserve
581 W. Jericho Turnpike, Smithtown
(631) 265-1054
Hiking trails are open, and the nature museum is closed until further notice.
Camp Hero State Park
1898 Montauk Highway, Montauk
(631) 668-3781
Trails are open from sunrise to sunset for hiking and biking alongside ocean views.
Cathedral Pines County Park
Yaphank-Middle Island Road, Middle Island
(631) 852-5502
All trails are open until dusk.
Caumsett Historic State Park
25 Lloyd Harbor Road, Lloyd Harbor
(631) 423-1770
$8 parking fee from 8am-4pm daily. Grounds are open from sunrise to sunset daily. Parks are closed intermittently on busy days to maintain social distancing.
Cedar Creek Park
3340 Merrick Road, Seaford
(516) 571-7470
All trails and bike paths are open. Tennis courts are open, handball is open, basketball courts are closed, and turf fields are closed.
Connetquot River State Park Preserve
Sunrise Highway/Route 27, Oakdale
(631) 581-1005
The park and all of the trails are still open, buildings are closed except for the bathrooms.
Gardiner County Park
Montauk Highway, Bayshore
(631) 854-4949
Trails are open as usual.
Garvies Point Museum and Preserve
50 Barry Drive, Glen Cove
(516) 571-8010
The preserve is open 7am-7:30pm every day, no dogs allowed on the preserve at any time. The museum is set to reopen on Wednesday, July 8.
Heckscher State Park
Heckscher Parkway, East Islip
(631) 581-2100
Park open daily from 7am to sunset.
Hempstead Lake State Park
Lakeside Drive, West Hempstead
(516) 766-1029
All hiking and biking trails are open.
Hither Hills State Park
164 Old Montauk Highway, Montauk, NY
(631) 668-3781
The park and trails are open from sunrise to sunset.
Indian Island County Park-Riverhead
Cross River Drive, Route 105, Riverhead
(631) 852-3232
The park and trails are open. Camping by reservation only, and tents are now allowed
Nissequogue State Park
799 Saint Johnland Road, Kings Park
(631) 269-4927
Hiking trails all open.
Norman J. Levy Overlook Park and Preserve
1600 Merrick Road, Merrick
(516) 804-2000
Masks and social distancing required. All tours, jitney rides, and ranger-guided kayak tours are suspended. Ranger station closed to the public.
Orient Beach State Park
40,000 Main Road, Route 25, Orient
(631) 323-2440
The park and trails are open.
The Reverend Arthur Mackey Sr. Park
Lakeside Drive, Roosevelt
(516) 571-8692
The park and trails are open.
Robert Cushman Murphy County Park
Old River Road, Manorville
(631) 854-4949
Trails are open as usual.
Robert Moses State Park
Robert Moses Causeway, Fire Island
(631) 669-0449
Park is open to the public, with the parking lot at 50% capacity. Bathrooms are open, and concessions are closed.
Sears Bellows County Park
Bellows Pond Road, Hampton Bays
(631) 852-8290
Trails are open as usual.
Shadmoor State Park
900 Montauk Highway, Montauk, NY
(631) 668-3781
The park and trails are open from sunrise to sunset.
Sweetbriar Nature Center
62 Eckernkamp Drive, Smithtown
(631) 979-6344
Hiking grounds and trails are open, but the Sweetbriar House and the butterfly house are closed until further notice.
Terrell River County Nature Preserve
20 Main Street, Center Moriches
(631) 854-4949
Trails are open as usual.
Theodore Roosevelt County Park
Montauk Highway, Montauk, NY
(631) 852-7879
Trails are open. Immediate family members only in campgrounds. One vehicle per family is allowed in the campground area, other vehicles must be in the parking lot.
West Hills County Park
Sweet Hollow Road, Huntington
(631) 854-4423
All trails and dog runs are open, and picnicking is allowed.
Wildwood State Park Beach
790 Hulse Landing Road, Wading River
(631) 929-4314
New York State Park campsites, cabins and cottages are currently open only to those with existing reservations. New reservations for all available sites – including tents, trailers, RVs, cabins, yurts and cottages – will be accepted starting at 9 a.m. June 8, for camping stays beginning on June 22. No walk-on camping, you must have a reservation.
Hiking Trails in Fairfield County, CT
Audubon Center of Greenwich
613 Riversville Road, Greenwich
(203) 869-5272
Center buildings and facilities closed until further notice. Center and other sanctuary trails are open on a limited basis Monday-Fri 9am-5pm.
Bartlett Arboretum
151 Brookdale Road, Stamford
(203) 322-6971
Grounds and trails open from dawn to dusk everyday. Plant clinic open 9am-3:30pm may-mid September.
CT Audubon Society Nature Center
2325 Burr Street, Fairfield
(203) 259-0416
Connecticut Audubon sanctuaries are open for hiking with social distancing. The Center building is closed and indoor activities have been canceled. The Nature Store has reopened Monday—Friday from 10am-2pm.
Earthplace
10 Woodside Lane, Westport
(203) 557- 4400
Trails are open, but the Earthplace building and playground are closed.
Indian Well State Park
Howe Avenue, Shelton
(203) 924-5907
Trails are open, but there is no swimming or grilling
Mianus River Preserve
Westover Road, Stamford
(914) 234-3455
Open daily 8:30am-5pm.
New Canaan Nature Center
144 Oenoke Ridge, New Canaan
(203) 966-9577
Trails are open, but the visitor center is currently closed.
Weir Farm National Historic Site
735 Nod Hill Road, Wilton
(203) 834-1896
Working toward a phased reopening, so park Grounds and parking Lot are open daily from 7am-5pm. All facilities, including restrooms, remain closed and no water is available.
RELATED: Everything You Need to Know to Stay Safe This Summer
---
Want more content like this? Great Family Activities Sent To You!
---