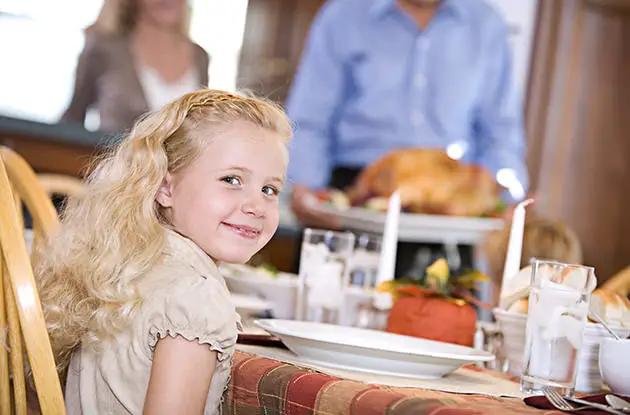 How To Teach Your Kids to be Thankful
Get kid-friendly activities sent to you!
Get the Best Family Activities
Sent to You Weekly!
"Guide your kids by pointing out opportunities for them to take the initiative in engaging in random acts of kindness," instructs Patkin. "When you're out shopping, encourage them to help an elderly lady load her groceries into her car, and then offer to return her cart to the corral. Likewise, prompt your child to hold the door for a woman pushing a baby stroller, or whisper that he might offer the last piece of pizza to his younger brother. Soon, your kids will hopefully be taking the initiative all on their own!"
RELATED: Three Games that Encourage Kindness

Understand (and explain) that philanthropy is not one-size-fits-all.
Kids naturally have more aptitude for some activities than others. The child who's a natural artist may be stymied and bored by the intricacies of baseball-and the same principle is true when it comes to giving back. It's important to tailor philanthropic work to a child's personality and interests. For example, you wouldn't take your daughter to the animal shelter if she were afraid of dogs larger than a throw pillow!
"Just as the projects individuals take on aren't one-size-fits-all, neither are the needs of the people these projects work to benefit," Patkin points out. "It's important to explain this state of affairs to your child, especially if she is younger. Talk with her about how different people and situations have different needs. Some might want a hot meal, for example, while others may want someone to listen to their problems. Some places need clothes while others benefit more from monetary donations, and so on. Help her to understand why it's important for her to match her talents, passions, and beliefs to these needs."

There's no substitute for real-world experience.
Encouraging your kids to earmark a percentage of their allowances or to donate some of their lesser-used toys to charity is a good start-but don't stop there. If your children can see where their donations are going and how they're actually helping others, the giving experience will be much more real. Consider taking a family trip to visit recipient organizations so that your children can see where the money goes.
"Visiting charitable organizations in person tends to take giving to the next level," Patkin shares. "Whether you're seven or seventy, you're much more likely to stay involved in philanthropy if you can see how your efforts are actually making the world a better place. In order to keep the memories fresh, make a scrapbook of your child's volunteering experiences. Also, you can look for real-world philanthropic opportunities that connect to your child's interests and activities. If he has a school reading list, for example, you might tie projects into the books he's reading. If one of them is about dogs, volunteer at the animal shelter!"

Make it a family affair.
When you give back as a family, your kids will see Mom and Dad as role models. Bonus: You'll all grow closer to each other because of this shared experience. Commit as a family to spend two days per month working with a charity or doing something to help others-even if that just means helping out elderly neighbors or volunteering at the church yard sale. You might also work together to raise money for a walk, fundraiser, or other project, then walk together on race day, or go together as a family to present the money you've raised.
"As with any change, start small and take baby steps," encourages Patkin. "While you may not be ready to give up your family vacation for a volunteer trip, you can eat in one night and use the money you saved on eating out to help feed the homeless. After projects or events, always be sure to have a family meeting where you sit down with your kids to talk about what you've done, how it made them feel, and how it helped others. Helping your kids to acknowledge the accomplishment and the good feelings associated with philanthropy will encourage them to continue their involvement. Again, I encourage you to kick off this initiative during the Thanksgiving holiday. There are plenty of organizations that would welcome a family's worth of helping hands."

Help your kids to focus on how good it feels to give back.
Everyone likes to feel good, and kids are certainly no exception! When they feel good about something, they-like you-will want to do it again. In fact, that good feeling will be the impetus that keeps your kids motivated to continue helping others even after you've relinquished oversight of their daily schedules. Help them to focus on how fulfilled they are when they are doing something to help others.
"Zero in on the warm fuzzies by talking about the excitement your kids are feeling on the way to donate that box of toys, or how happy they were when they were thanked for serving food at the local soup kitchen," Patkin suggests. "Even more importantly, talk about those experiences fairly often to remind your children of how wonderful they were. Helping kids to acknowledge their philanthropic accomplishments and the good feelings associated with them will really encourage them to get hooked on helping!"

Make sure that your expectations are realistic.
At the end of the day, kids are still kids. You can't expect them to always want to donate their toys or to be able to sit still and pay attention through every single event or presentation. (Be honest with yourself-sometimes your own attention wanders, too!) Be conscious of your children's ages and capabilities, and (without being too quick to exclude them from an activity or event that might not be "fun" from start to finish) keep in mind that your budding philanthropists are still kids.
"In other words, don't let yourself become frustrated or discouraged if your children don't immediately embrace the idea of volunteering on a Saturday afternoon-persevere even if they continue to voice their preference for staying at home for weeks to come," Patkin advises. "Any good behavior or habit takes time to cultivate, so be very aware of how you address situations when your kids act less than perfect. You want them to relate their experience as a positive one, not one in which they let you down or were punished."
"Ultimately, raising children who understand the value of giving back-and whose lives reflect that knowledge-is one of the most philanthropically minded things parents can do, and this holiday provides the perfect opportunity," Patkin concludes. "Don't forget that Thanksgiving isn't just about 'thanking'-it's about giving as well. After all, the original celebrants gave their food and friendship to one another, and helping others is an American legacy I'd like to see continue. And from a parental point of view, you'll be amazed at how rewarding it is to raise philanthropists, and how much stronger giving back makes your relationship with your kids."
RELATED: Get Family Activities Sent to You