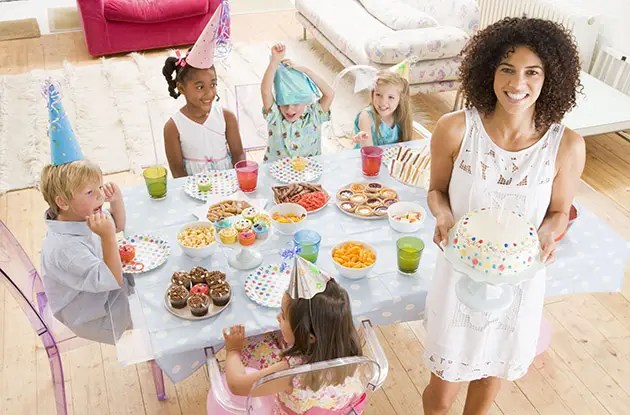 How to Plan Your Child's Birthday Party: 30 Time-Saving Tips for the Busy Parent
Get can't-miss family activities sent to you!
Get the Best Family Activities
Sent to You Weekly!
17. Utilize your own talents or hobbies for the activities: Teach children how to paint, cook, or dance.
18. Ask around: Get quick recommendations for great entertainers from friends and family.
19. For a sleepover party, buy mini pillows for the girls to throw at each other and also bring home as favors.

Food
20. Pick up vegetable and fruit platters—no slicing, no fuss!
21. Ask parents to bring a special dish and make it a potluck.
22. Set up a pasta or chili bar, or have kids make their own sandwiches or mini pizzas.
23. Don't spend the night before baking: Have children decorate individual mini cakes as you decorate the main cake.
24. Buy individualized cups of ice cream—they're convenient and make cleanup a breeze.
25. Enlist the help of a pro: Purchase a designer cake or pick up a ready-made one and use colored gels and icings to decorate it.

Goodie Bags and Favors
26. For spa parties, gather cosmetic samples at store makeup counters, which double as favors.
27. Don't spend time stuffing goodie bags: Pass out small cellophane bags and have guests collect candy from the piñata to take home.

After the Party
28. Don't rush: Collect all cards and gifts at your venue and open at home.
29. Address, stamp, and have your child sign thank-you notes ahead of time. Then, make a list of the gifts as they're opened and write a personalized note later. Or create a thank-you note template or fill-in-the-blank. Change the name and the gift, then sign it and it's done!
30. Save the snail mail thank-you notes for family, and send quick emails to friends.

Birthday Party Stores and Resources