How to Prevent a Homework Meltdown
Get can't-miss family activities sent to you!
Get the Best Kid-Friendly Activities
Sent to You Weekly!
Create a checklist.
Some children need and crave more structure than others. Parents of these youngsters often find that daily routines, rewards, and consequences are just the ticket to good behavior. In other words, your child should always know what to expect and should be clear about incentives and consequences even before she begins schoolwork. You can do this by creating a homework checklist.
First, think about what you want your child to do and narrow the list down to two to four homework-related tasks. Now, determine what it will take to motivate your child. For many kids, it's screen time - the use of the computer, cell phone, and video games. If you are going to use screen time or another privilege as a reward, be sure it's not available at any other time during the day. Finally, record any other rules below the checklist.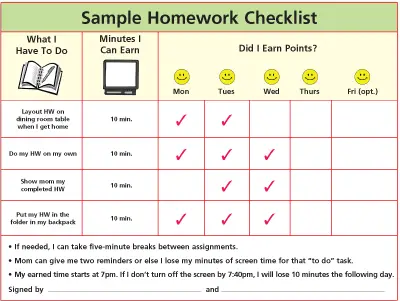 The above checklist belonged to a girl with whom I worked. She was a classic easily frustrated student and managed to engage her parents in daily verbal sparring matches over homework. Once we crafted a checklist and established a certain number of reminders she'd receive from her mother to get on track (she asked for two reminders), her behavior improved significantly.
You can come up with your own ideas, but remember that once your child earns the reward, you cannot take it away. For example, if she earns 30 minutes of screen time, but then hits her sister, I don't recommend taking the earned privilege away. Instead, consider an-other consequence such as a time out. Children are more likely to follow through with incentive programs if they know their "winnings" won't be withheld.
With just a few creative ideas and a whole lot of patience, you can put your easily frustrated child on the road to academic success.
Ann K. Dolin, M.Ed., is the founder and president of Educational Connections, Inc. In her recent book, "Homework Made Simple: Tips, Tools and Solutions for Stress-Free Homework," Dolin offers proven solutions to help the six key types of students who struggle with homework. Learn more at www.anndolin.com or www.ectutoring.com.
Also see: Four Tips to Break Your Child's Procrastination Habits
How to Partner with Your Child's Teachers: Advice from the Experts