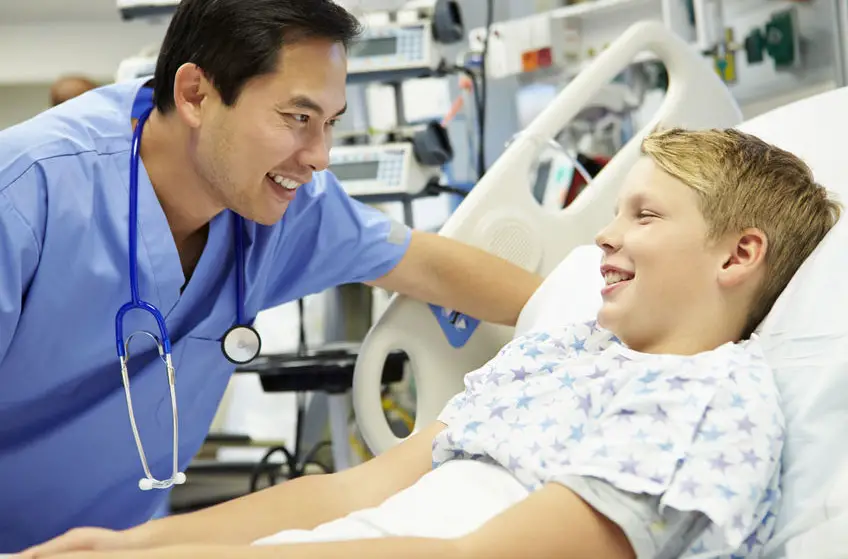 How to Survive the ER with Your Child
Tips to make an ER trip with a kid less traumatic.
Get Great Family Activities!
Great Family Activities Sent To You!
Arriving weekly
3. Ask the triage nurse if numbing cream can be applied to a laceration in the waiting room—it can take a while to be effective, so applying it early could save some time later. Keep track of how long a cream has been on.
4. Ask if any part of the expected treatment can be started while you wait. If there's going to be a delay, often the nurse and doctor will communicate to begin the assessment before the doctor can see your child. The physician might authorize drawing labs or placing IVs as soon as you're moved to an exam room, or sometimes even from the waiting room.
5. Call someone to get a list of your child's medications and dosages if you don't already have this information. If someone else has been caring for your child, get specifics: time illness began, time of last urination, amount of fluids taken, time of last medication dosage, etc.
6. Don't be hesitant to get help. If your child is in pain, or getting worse, speak up. The triage nurse can ask if the doctor can approve pain medicine, or reassess her place on the list.
Follow Through on Follow-Ups
Your goal for your ER visit is most likely to have your problem solved. Your doctor's goal, on the other hand, is somewhat different: We're all for solving the problem, but our main priority—always—is to evaluate for a life-threatening problem, and if possible to get you out of there in better shape than you went in. Sometimes that means making a decision about whether or not to do more tests. It also means the ER is structured for stabilization, not long-term diagnosis and management of chronic problems.
The ER doc might be able to send a message to whoever is on call for your pediatrician to arrange a follow-up visit for your child first thing the next morning if warranted. They can also pass along test results. I'm especially careful to make sure a child who is borderline for admission doesn't slip through the cracks the next day. Pediatricians, who tend to be the nicest people on the planet, rarely complain about a late-night ER doctor's communication about one of their little patients who needs timely follow-up. In less complicated situations, ask if your doctor will know what happened or if you will need to communicate it to them yourself, and make sure you understand when to follow up.
Try to Keep Calm
There is a good chance you will be able to remain in the room with your child in a bona fide emergency. Hospitals used to ask parents to wait outside during codes and procedures, but now we try to keep the parents present if possible. There are exceptions, of course, like severe traumas and other instances where the room will be very crowded with people and equipment. If you are in the room when your child undergoes a painful or frightening procedure, speak calmly and lovingly to him. Try to hide your own anguish if your child is awake, and focus on comforting him. If you are squeamish, sit down or wait outside; I have seen more than one parent hit the deck during a spinal tap on a newborn. If you can, write down any information the doctors and nurses give you, along with your questions, so you don't forget it later. And finally, please know that we will care for your dear child as if she were our own—as kindly and compassionately as we can.
RELATED:
Should I Take My Child to Urgent Care Or the ER?
How to Know When Head Injuries Are Serious
---
Want more content like this? Get Great Family Activities!
---