New Kids on the Block: New Shops and Centers in Manhattan
Great Family Activities Sent to You!
The Best Holiday Activities Sent to Your Inbox!
Delivered right to your inbox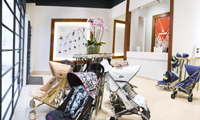 DO-OVER

The Scholastic Store in Soho has had a makeover, and is even more fun with an 11-foot dinosaur, a walk-thru Magic School Bus, and expanded Klutz activity area. There are also a lot more bilingual and Spanish books and games. The store always has great activities, including story hours on Tuesdays and Thursdays and special events on Saturdays. The Scholastic Store is at 557 Broadway, between Prince and Spring Streets; (212) 343-6166 or www.scholasticstore.com.
Want more content like this? Receive our Scoop packed with great ideas