New Places, New Programs for Kids in Nassau County, Long Island - October 2009
Get kid-friendly activities sent to you!
Get the Best Kid-Friendly Activities
Sent to You Weekly!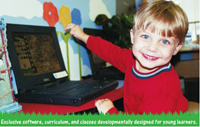 Techie Toddlers
Floral Park's Tech Savvy Tots recently opened to help prepare young children with vital skills necessary for school and successful futures. Small group classes for children ages 2-1/2 through 7, introduce concepts such as e-mail, microchips, and networks by sending children on adventurous "missions" which encourage learning and excitement for technology, as well as problem solving and critical thinking skills. Tech Savvy Tots is powered by Imagine Tomorrow's custom curriculum and is nationally recognition by the National Association for the Education of Young Children. Tech Savvy Tots also bring classes into area schools. Tech Savvy Tots, 103 South Tyson Avenue, Floral Park. 516-302-8819. www.imaginetomorrow.com.