New Technology Toys & Gadgets in March
Get can't-miss fall activities sent to you!
Get the Best Fall Family Activities
Sent to You Weekly!



High Style for Less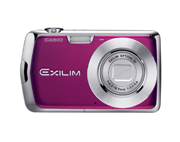 Casio has slim digital cameras, in five shiny colors, for only $179.99. The EXILIM EX-S5 is the latest in the company's "Sleek & Sturdy" design, a 10.1 megapixel camera in a compact package. The camera is less than 3/4 inch thick, making it easy to slip in a pocket or bag so you can always capture your kids' adorable moments.  Plus it offers crisp images and a large LCD screen.  In blue, black gold, silver, pink and purple at www.bestbuy.com.