New Technology for Kids and Families
Get can't-miss fall activities sent to you!
Get the Best Fall Family Activities
Sent to You Weekly!
Shutter happy? The new Casio EXILIM EX-H10 12.1 megapixel compact digital camera can take up to 1,000 pictures on a si
ngle charge. With its ultra wide-angle 24mm, 10x optical zoom lens, you won't miss any of the action. The 3-inch LCD screen offers a large preview of your shots. You can also take a subject and put it into another background, a cool 'green screen' function that tech-savvy kids will enjoy exploring. In black, pink, or gunmetal gray; $299? at www.amazon.com.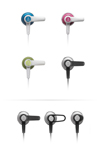 For Mom
Make a fashion statement, and hear your music better, with The ATH-CK6W headphones, designed specifically for women, come in metallic silver, blue, green, and pink and include three different sized ear tips so you get a custom fit and block out other noise (try this when your kids are whining about dinner). The lightweight headphones also come with a travel pouch and a cord wrap to keep them in tip-top shape. $99.95 at www.amazon.com.