New and Noteworthy; Getting Ready for School
Get kid-friendly activities sent to you!
Get the Best Family Activities
Sent to You Weekly!
Applause for Applesauce
Give applesauce lovers a new flavor profile. Santa Cruz Organic Fruit Sauces offer a twist, with apple blackberry, apple blueberry, apple cherry, and apple strawberry, in lunch or snack cups that provide 100 percent of the USDA recommended daily value of vitamin C. And, of course, no sugar added. About $3.59 for a six-pack at Super Natural in Spring Valley.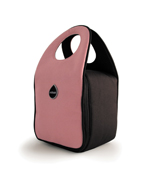 Stylish Tote
Lunch might taste better coming out of a hip new bag. Stöh, by Milkdot, is a PVC-free soft bag in blue/chocolate or pink/chocolate, with an ID tag that you can customize with a photo. The interior has mesh pockets so food stays fresh, and the foam insulation keeps food cold. The easy magnetic closure means kids don't have to bother with zippers or clasps. Get one for your child and one to bring lunch to the office. $25 at www.Milkdot.com.