October's Buzz: Latest Tips & Trends for Parents
Plan Epic Summer Outings - Get Activities Sent to You!
Never Hear "I'm Bored!"
Activities Sent Weekly




NO-TAILGATING TOTS

   How other Americans parent: At the University of Missouri-Columbia, the start of the football season signals the opening of their Pigskin Preschool … on game days, parents can drop off their kids at the on-campus facility and then head to the game.  Graduate students provide care and child development instructors oversee the kids.


HUBBA WUBBA

   Another lost pacifier? Not with the WubbaNub. Carla Schneider of Orange, Connecticut came up with the concept when she sewed a small stuffed animal to the pacifier so it stayed in baby's mouth. The pacifier is made of latex-free medical grade silicone, while the plush toy stays close to baby without any cords or clips. The washable WubbaNub can be found in various colors and friendly animal shapes, at stores, and at www.wubbanub.com.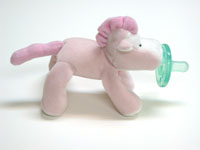 ---
Want more content like this?
---