Kids Soak Up the Sun this Season with a Cool Lemonade and a Hot Summer Read
Get can't-miss family activities sent to you!
Get the Best Family Activities
Sent to You Weekly!
Project Seahorse [Scientists in the Field] written by Pamela S. Turner, photographed
by Scott Tuason (Houghton)
A conservation group fights to preserve seahorses, coastal reefs, and a community's fishing-based livelihood. Facts about seahorses and underwater photos are interspersed. 57 pages.

Young Fredle written by Cynthia Voight , illustrated by Louise Yates (Knopf)
House mouse Fredle finds himself banished to the great outdoors. He longs for home, but it takes an extended mouse odyssey before he returns there. 229 pages.

Middle School Fiction and Nonfiction
Suggested grade level for each entry: 6–8
Close to Famous written by Joan Bauer (Viking)
Cupcake-baker Foster and her mother flee Mom's abusive ex-boyfriend to small-town West Virginia, where an odd assortment of characters welcome them. 250 pages.
No Passengers Beyond This Point written by Gennifer Choldenko (Dial)
Three siblings are horrified to learn they're being sent to live with an uncle—tomorrow. Their journey takes a surreal turn when the kids are picked up by a feather-covered taxi. 244 pages.
Mockingjay written by Suzanne Collins (Scholastic)
In this final installment in the Hunger Games trilogy, Katniss reluctantly accepts her role as figurehead of the rebellion. She must work through both the ethical minefield of warfare and her complicated relationships with Peeta and Gale. 392 pages.
Take Me to the River written by Will Hobbs (HarperCollins/Harper)
Dylan and Ryan's rafting trip down the Rio Grande becomes unexpectedly dangerous with the additions of a hurricane and a kidnapping. 184 pages.
The Mermaid's Mirror written by L. K. Madigan (Houghton)
Lena secretly (and against her father's wishes) takes surfing lessons in order to investigate a woman with a "glistening silver tail" in a dangerous ocean cove. 313 pages.
Trash written by Andy Mulligan (Random/Fickling)
"Trash boys" Raphael and his friend Gardo never find anything of value—until one day they do. A leather bag containing a wallet, money, map, and key sends the young men on a quest. 234 pages.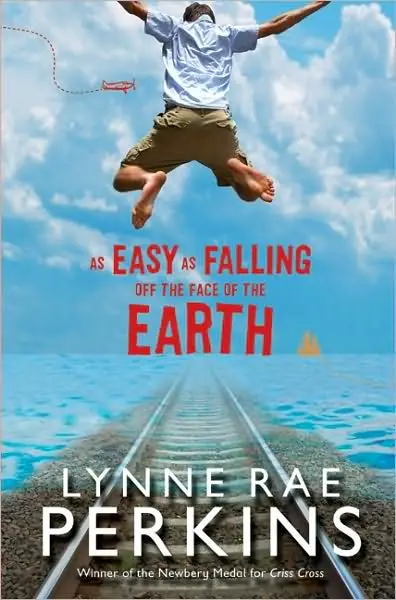 As Easy as Falling Off the Face of the Earth
written by Lynne Rae Perkins (Greenwillow)
On his way to summer camp, Ry learns the camp's gone out of business.
When he hops off the train to call his grandfather, it leaves without him,
stranding him in the middle of nowhere. 354 pages.


The Grimm Legacy written by Polly Shulman (Putnam)
Elizabeth, a page at the New York Circulating Material Repository, discovers someone has been stealing magical fairy-tale artifacts from the Grimm Collection. 327 pages.
The Good, the Bad, and the Barbie: A Doll's History and Her Impact on Us written by Tanya Lee Stone (Viking)
This eye-opening cultural history reveals the devotion and loathing generated by Barbie; black-and-white and color photos help flesh out Barbie's story. 126 pages.
The Ring of Solomon: A Bartimaeus Novel written by Jonathan Stroud (Hyperion)
In this prequel, wisecracking djinni Bartimaeus is bound to one of King Solomon's evil magicians. Meanwhile, Asmira, guard to the queen of Sheba, is sent to assassinate Solomon. 398 pages.
Alien Invasion and Other Inconveniences written by Brian Yansky (Candlewick)
When most of the human race is annihilated by invading aliens, a small minority are kept alive to serve as slaves, protagonist Jesse among them. 229 pages.
High School Fiction
Suggested grade level for each entry: 8 and up

Ship Breaker written by Paolo Bacigalupi (Little)
In a dystopian future America, "ship breaker" Nailer discovers a wrecked clipper ship and its sole survivor, Nita. Nailer chooses to protect Nita and help find her family. 326 pages.
Chime written by Franny Billingsley (Dial)
Briony, a self-proclaimed witch, blames herself for her twin sister's brain damage.
A new boarder at her family's parsonage inspires Briony to uncover suppressed memories. 362 pages.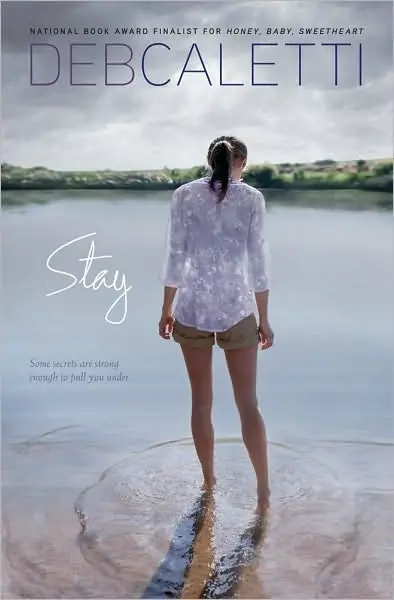 Stay written by Deb Caletti (Simon Pulse)
Clara and her father rent a summer house on the seashore to escape Clara's possessive stalker ex-boyfriend. 313 pages.





Dark Water written by Laura McNeal (Knopf)
Pearl starts a secret relationship with Amiel, an undocumented migrant laborer. When fire consumes southern California, Pearl abandons her family to warn Amiel of the approaching flames. 289 pages.
Sisters Red written by Jackson Pearce (Little)
In this urban "Little Red Riding Hood" interpretation, sisters Scarlett and Rosie were attacked by a Fenris (werewolf) as children. Now teenagers, they don red capes and hunt the creatures. 328 pages.
Fat Vampire: A Never Coming of Age Story written by Adam Rex (HarperCollins/Balzer + Bray)
Vampire Doug, destined for eternal tubbiness despite his liquid diet, tries to attract girls with his sense of humor. 324 pages.
Also see: A Parent's Guide to Summer in the NYC Area