Stuff We Like: Springtime Goodies
Get can't-miss family activities sent to you!
Get the Best Kid-Friendly Activities
Sent to You Weekly!
Walk This Way


By now we're all (hopefully) as eco-conscious as we can be all year long, but reminders never hurt. So this Earth Day (April 22), be mindful, and make some meaningful changes. Get inspired by the more than 600 million "acts of Green" on earthday.org. Every little choice matters—even when shopping for shoes. These Origine Eco Espadrilles from world-famous Brazilian flip-flop maker Havaiana have the company's iconic, comfy rubber sole with an upper made of natural Amazonian jute; the product requires no fertilizers or pesticides ($38, available in blue or beige; us.havaianas.com).
Wish List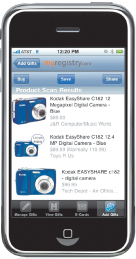 Graduation season is right around the corner. Start your party planning now, and let your older kids prep for the next step in their educational careers with MyRegistry.com. The site lets grads select prospective gift items from any store in the world (online or brick and mortar), has a handy "snap-to-add" feature as part of its iPhone app (just scan barcodes to get price recommendations or add to list), and easily publishes wish lists to Facebook. The cash fund allows gift givers to contribute to funds set up specifically for what the grad wants, from textbooks to snow boots. One of our favorite features is the "surprise me" option, where family and friends can choose one item from a group of similar products which, for instance, would make the three other backpacks in the registry disappear.