The Best Toys for Kids with Special Needs - 2010 Gift Guide
Get family activities sent to you
Get things to do with your kids
Delivered right to your inbox
Cerebral Palsy/Muscular Dystrophy
When your gift recipient has cerebral palsy, muscular dystrophy, or any condition that affects the motor systems, search out playthings that work with their limited movements. They sometimes have involuntary, spastic movements, so toys with big, or otherwise simple-to-grasp parts, are helpful. Froggy Catch by Melissa & Doug fits the bill. Toss the soft balls back and forth, 'catching" them on the adorable, self-stick frog faces. (ages 3 and up; $9.59; www.gummylump.com)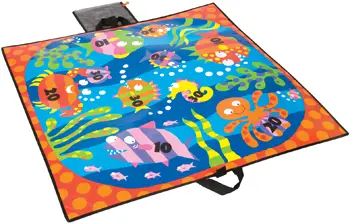 Down Syndrome
Kids with Down syndrome can have trouble with fine motor skills, so games and puzzles with larger pieces that are easy to grab are often just the thing. Also consider games that can be adapted, or played in different ways, to custom-fit the developmental stage of the child. The Beanbag Toss N Tote by Alex is two games in one. One side of the mat has a big bullseye target, and the other is a feed-the-fish game. Encourage your kid to try starting up close, and then step back to toss as skills develop. (3 and up; $21.99; www.alextoys.com)
Juvenile Arthritis
Toys that call for slow, easy motion are just the things for children who have problems with their upper joints. Elefun (ages 3 to 6; $19.99; www.hasbrotoyshop.com) shoots fluttery butterflies from his trunk. Your child will have a ball gently catching the cascading critters in her net.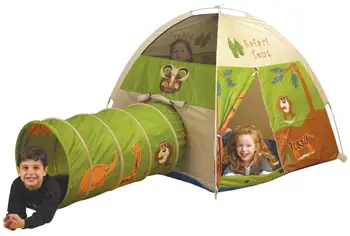 Sensory Integration Impairment
This condition can take different forms depending on the child. Some kids feel overstimulated by the world, and tend to like to escape. For those children, a tent and tunnel combo, like the Safari Tunnel and Tent by Pacific Playtents (ages 3 and up; $50.49; www.amazon.com), is great. The colorful jungle-themed hideout can be used indoors or out.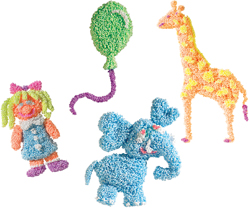 Other kids love tactile stimulation. For those, check out Sparkle Playfoam by Faber Castell ($19.07 for a 12-pack; www.amazon.com). It can be squished and squashed into glittery creatures and abstract creations...but it doesn't stick to hands, a big bonus with modeling compounds.
Also see: The 2010 Toys R Us Toy Guide for Differently-Abled Kids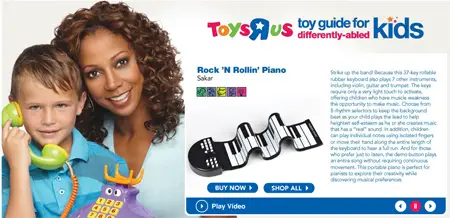 Want more content like this? Receive our Scoop packed with great ideas