The Family Side of New Orleans
Get Editors' Picks Weekly
Get Editors' Picks Weekly
Over 1,000 Events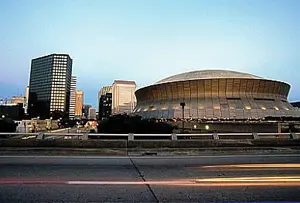 Hurricane Katrina is now ingrained into the culture of New Orleans. The Louisiana Superdome, besides being the home of the Saints football team, became iconic for serving as temporary shelter for 30,000 people after the storm's devastation. It cost more than $134 million for the city to repair the sporting venue. Of course, other less prominent structures, including homes and businesses, were also destroyed and are still in need of repair. NOLA offers countless voluntourism opportunities for travelers looking to lend a hand; and for those who want to see the real damage Katrina left, there are plenty of tours that can highlight the destruction.
New Orleans is a short drive from the bayous of the South. Various outfitters offer tours of the area that bring guests across the Mississippi River. Travel through the Barataria Preserve, in Jean Lafitte National Historic Park, and see the habitats of alligators, egrets, raccoons, and a variety of snakes. Or to become one with nature in the confines of the city, head to Audubon Aquarium of the Americas and the Audubon Zoo, where visitors can say hello to Spots, the white alligator, or ride a safari simulator ride. Plus, the New Orleans Botanical Gardens has more than 2,000 varieties of plants.
Fantastic war museums abound in NOLA. The oldest, the Confederate Museum, is home to the second largest collection of Confederate memorabilia in the U.S. Also, The National World War II Museum is packed with exhibits and haunting images of the war, which may not be appropriate for little ones. Highlights of the museum include actual soldier's uniforms, weapons displays, and oral history stations, where visitors can hear the stories of veterans while watching film footage related to their experiences.
For more information on family-friendly activities and attractions in The Big Easy, contact the New Orleans Convention and Visitor's Bureau at www.neworleanscvb.com, or call 1-800-672-6124.