Tips from SuperNanny Jo Frost on Battling Childhood Asthma
Get kid-friendly activities sent to you!
Get the Best Family Activities
Sent to You Weekly!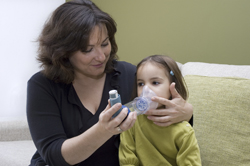 Facts on Asthma in Children
Courtesy of Centers for Disease Control and Prevention
Asthma is a chronic condition that affects inflammatory cells and causes the airways to become inflamed, swollen and irritated. Although asthma cannot be cured, symptoms can be managed and treated.
The most common asthma symptoms that children experience are wheezing, chest tightness, shortness of breath, and coughing. A number of factors like physical exertion, colds, or other illnesses, in addition to allergens like pollen, mold, house dust mites, and pets, may lead to an increase in asthma symptoms or attacks.
Ordinary cold and flu viruses cause airway inflammation and sometimes worsen asthma symptoms in children.
Small airborne particles such as pollen, dust mites, and mold have been associated with respiratory symptoms in children with asthma; changing weather conditions, including extreme temperatures, barometric fluctuations, and high humidity have also been associated with asthma flare-ups.
Tips to Help Reduce Symptoms
Reduce common household allergens and irritants such as animal dander, mold, dust mites, scented cleaning solutions, and tobacco smoke.
Create an asthma action plan with the child's healthcare professional that lists daily medications, relevant allergens, and irritants to avoid, symptoms and directions for how to prevent and manage symptoms.
Incorporate the asthma action plan into family routines: try to administer daily medications at the same time each day, serve fresh and wholesome foods, ensure children keep to bedtime schedules, and be consistent about keeping allergens and irritants out of the bedroom and play areas.
Use an asthma diary to keep track of symptoms, medications, and other factors, such as peak flow rates, which measure how well the large airways are working.
Download these easy-to-use asthma tools at www.Time2TalkAsthma.com.