When Divorce Moves on to Dating
Get can't-miss family activities sent to you!
Get the Best Kid-Friendly Activities
Sent to You Weekly!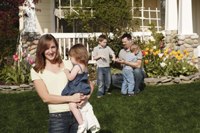 What Parents Can Do
-Avoid the "revolving door" that takes place with multiple, casual dating. Children do not need to meet every new person, especially if it is likely that they will not become a regular presence in the child's life.

-Avoid discussing the details of dating life even if it is a positive experience. Children should never be in the role of their parents' confidantes. Teenagers are still children, too.

-Remember that children are dealing with loyalty issues regarding both parents even if both are dating, and even if everyone appears happy on the outside. If a child grows to like and accept a new dating partner, this can still feel like disloyalty toward the other parent.

-Be aware that older children can be embarrassed by their parents' new images: youthful or revealing clothing, new hair color or style, sports cars and other new additions. Children still need their parents to behave like adults.

-Be observant of persistent behavioral or emotional changes in children. Irritable or oppositional behavior, sullenness, crying, sleep disturbances, poor concentration in school and other symptoms can be signs of stress or difficulty with the post-divorce adjustment and may indicate that the child needs someone neutral to talk to.

KAREN KAUFMAN, Ph.D., L.C.S.W., works in private practice in New Rochelle and on the Upper East Side of Manhattan, and is a faculty member at Fordham University Graduate School of Social Service/Tarrytown Division. She can be reached at (212)639-9614.