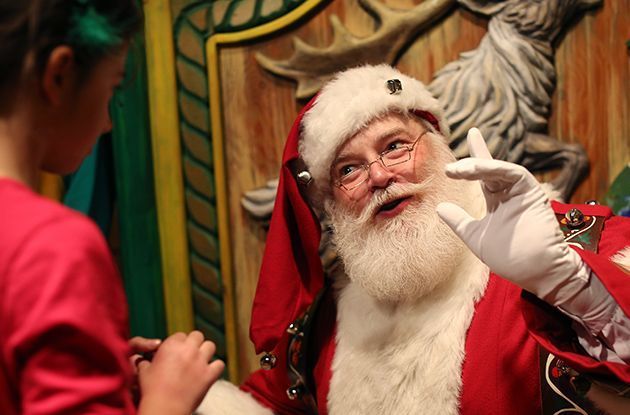 The Best Places To Meet Santa In NYC This Year
Here are some of the best places to meet Santa Claus in Manhattan, Brooklyn, and Queens..
Get family activities sent to you
Get things to do with your kids
Delivered right to your inbox
FREE Photos with Santa
WHEN: Nov. 30-Dec. 22, Saturdays, 11am-2pm; Sundays, 4-7pm
WHERE: Gateway Center, 501 Gateway Drive, East New York
AGES: All
WHAT: Meet Santa at the Holiday Tree and take free photos. Santa will be at the Food Court or at the Art Walk.
WANT TO GO? 718-235-0467. http://shopgatewaycenterbrooklyn.com/.
Photos with Santa
WHEN: Nov. 7- Dec. 24, 11/7-12/11 Mondays-Saturdays, 12-8pm; Sundays, 11am-7p; 12/12-12/23 Mondays-Sundays, 10am-9pm; 12/24 10am-6pm. Closed Thanksgiving
WHERE: Kings Plaza Shopping Center, 5100 Kings Plaza, Old Mill Basin
AGES: All
WHAT: Santa will be available for photos and visits at his holiday home. Want to see Santa sooner? Get a Fast Pass to make your family's visit even easier! Reserve online.
WANT TO GO? Photo packages available for purchase. 718-253-6844. https://www.kingsplazaonline.com/Events/Details/530491.
FREE Macy's Santaland
WHEN: Nov. 29- Dec. 24, 10am-10pm
WHERE: 151 W. 34th St., Midtown
AGES: All
WHAT: Visit the 13,000 square-foot Christmas village to meet Saint Nick (make a reservation in advance), board the Santaland Express, visit the Kinder™ Sweet Shoppe, enter the Enchanted Forest, and explore Santa's Workshop.
WANT TO GO? 212-695-4400. www.macys.com/social/santa-land/.
Where to Meet Santa on Staten Island
Empire Outlets
WHEN: Dec. 8-24, 10am-9pm
WHERE: 55 Richmond Terrace, St. George
AGES: All
WHAT: Kids can tell Santa what they'd like for Christmas from Dec. 8-24. You can also pick up a seasonal keepsake to take home, and Empire Outlets will be collecting letters to Santa beginning Dec. 3 as well.
WANT TO GO? $29.99 and up for prints. 929-262-6710. empireoutlets.nyc.
Where to Meet Santa in Queens
FREE Pictures with Santa
WHEN: Saturday, Nov. 30, 12-3pm
WHERE: 71st Avenue Plaza, 71st Avenue between Stephen St. & Forest Avenue (Myrtle Avenue)
AGES: All
WHAT: Santa's helpers will give out free candy canes and a free gift (while supplies last). There will be live holiday music. From late November to early January there will be holiday lights every evening and from 11am-7pm will also be holiday music during the day on Myrtle Avenue throughout December to spread some holiday cheer. Please call 718-366-3806 for more information.
WANT TO GO? 718-381-7974. www.Ridgewood-NY.com.
FREE Tree Lighting Ceremony
WHEN: Friday, Dec. 6, 7pm
WHERE: Lawn South of Rivercross, 501 Main St., Roosevelt Island
AGES: All
WHAT: Holiday tree lighting ceremony includes live music, holiday performances from community groups, giveaways, raffle prizes, and Santa!
WANT TO GO? 212-832-4540. rioc.ny.gov.
FREE Jammin' in my Jammies Breakfast with Santa
WHEN: Saturday, Dec. 7, 8-10am
WHERE: Queens Center Mall, 90-15 Queens Blvd., Elmhurst
AGES: All
WHAT: Get out your best pajamas and mark your calendars for December 7 8 AM- 10 AM. Our Jammin' In My Jammies event is almost here! Join us to rock out with Santa and DJ Omar. Enjoy a delicious breakfast from Applebee's, music, dance, prizes, crafts, special surprises and a contest with DJ Omar.
WANT TO GO? https://www.shopqueenscenter.com.
FREE Christmas in the Garden
WHEN: Sunday, Dec. 8, 12-5pm
WHERE: Queens Botanical Garden, 43-50 Main St., Flushing
AGES: All
WHAT: Enjoy live musical performances, photos with Santa, holiday crafts, tree lighting, and blowout sales at the QBG Shop!
WHY WE LOVE IT: A wonderful way to get into the holiday spirit.
WANT TO GO? 718-886-3800. queensbotanical.org.
FREE Holiday Crafts and Cookies
WHEN: Saturday, Dec. 14, 12-4pm
WHERE: Queens Library–Central Library, 89-11 Merrick Blvd., Jamaica
AGES: All
WHAT: Santa Claus is coming to the Central Library! Come enjoy holiday songs and crafts, and receive a free picture with Santa!
12-3pm: Meet and take a picture with Santa - Main Lobby
12:30-2pm: Holiday Tunes with Kelly J. Fallon (voice) and Dylan DeFeo (Keyboard) - Main Lobby
1-3pm: Children's face painting, balloon twisting, and crafts - CLDC
2:30-4pm: The Christmas Band - Main Lobby
WANT TO GO? 718-990-0778. www.queenslibrary.org/branch/Central-Library.
Holiday Cookies and Crafts
WHEN: Saturday, Dec. 14, 12-2pm
WHERE: Bayside Historical Society, 208 Totten Ave., Bayside
AGES: All
WHAT: Join BHS at the Castle for this walk-in workshop. Families are invited to craft delightful decorations celebrating the winter season. Hot cocoa and cookies will be served, and Santa will be making an appearance.
WANT TO GO? $5 per child; $15 max per family. https://www.baysidehistorical.org/.
FREE Photos with Santa
WHEN: Saturday, Dec. 14, 9am-2pm
WHERE: Maspeth Federal Savings, 56-18 69th St., Maspeth
AGES: All
WHAT: Bring in the little ones to take a photo with Santa!
WANT TO GO? maspethfederal.com.
Cookies with Santa
WHEN: Sunday, Dec. 14, 1:30-2:30pm, 3-4pm (for kids ages 3 and younger), and 4:30-5:30pm
WHERE: My Gym Fresh Meadows, 176-60 Union Turnpike, Suite 310, Fresh Meadows
AGES: All ages
WHAT: Bring the kids to enjoy Christmas songs, dances, games, relays, cookies and milk, and pictures with Santa. Pre-registration required. Registration closes 72 hours prior to the event or when the event is full.
WANT TO GO? $18. 718-380-4599. mygym.com/queens.
'The Nutcracker' By The Joffrey Ballet School
WHEN: Sunday, Dec. 15, 3:30pm
WHERE: LaGuardia Performing Arts Center at LaGuardia Community College, 31-10 Thomson Ave., Long Island City
AGES: 5-12, adult
WHAT: This performance is a special one-hour rendition, meet-and-greet with principle dancers, and just when you think the excitement has ended, participants can visit Santa in the magical toyland.
WANT TO GO? $20; $15 per person for groups of 4 and more. 718-482-5151. lpac.nyc.

RELATED:
Want more content like this? Receive our Scoop packed with great ideas