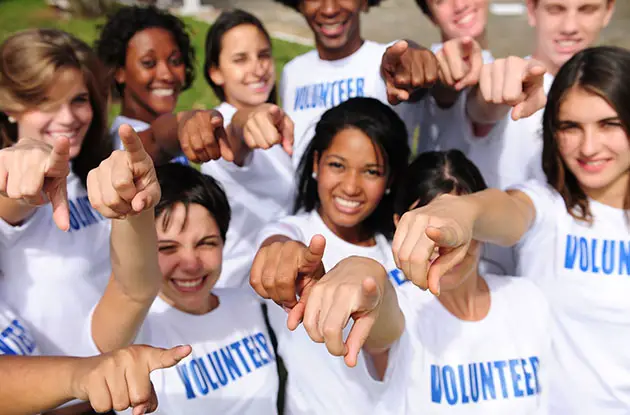 Where to Volunteer with Your Kids in Manhattan
Get family activities sent to you
Get things to do with your kids
Delivered right to your inbox
Serve Your Community
The American Red Cross provides relief to individuals affected by disasters and helps people prevent, prepare for, and respond to emergencies. Parents and kids ages 13 and older can help with mailings, hand out flyers at fundraising walks, help with fundraising events, or come up with their own projects to raise money for the Red Cross. Teenagers ages 14-18 can join or start a Red Cross Club at their high school. For more information or to fill out the volunteer application form, visit online.
Spread Kindness
The New York program site of Room to Grow, a nonprofit organization that strives to enrich the lives of babies born into poverty, is looking for dedicated volunteers to help prepare in-kind donations for families, organize collection drives, assist with fundraising, and get involved with many other special projects. High school student volunteers help organize and prepare inventory of infant and toddler clothing, toys, books, and equipment during the week for two-hour sessions. Room to Grow is located at 7 W. 30th St., 3rd Floor, NoMad. To volunteer, call 212-620-7800 or email allison.luciano@roomtogrow.org.
Spring Clean Your Closet
Donate your gently used clothing, shoes, and textiles at GrowNYC Greenmarkets throughout the city. Enlist your kids in the process of cleaning out their closets before springtime. It can even turn into a fashion show to see what still fits. Take your kids with you when you donate the clothes so they can see the impact of their good efforts. For more information, visit online.
Drop-off locations include:
• 97th Street Greenmarket, West 97th Street and Columbus Avenue, Upper West Side; Fridays, 8am-2pm
• Tompkins Square Greenmarket, East 7th Street and Avenue A, East Village; Sundays, 9am-6pm
• Union Square Greenmarket, 17th Street and Union Square West, Union Square; Mondays, 8am-6pm
You can also check with your local Salvation Army thrift store for instructions on donating clothes:
• 536 W. 46th St., Hell's Kitchen; 212-757-7745
• 220 E. 23rd St., Gramercy Park; 212-532-8115
• 112 Fourth Ave., East Village; 212-673-2741
• 208 Eighth Ave., Chelsea; 212-929-5214
• 268 W. 96th St., Upper West Side; 212-663-2258
Start Your Own Project
DoSomething.org is one of the largest organizations in the United States that helps young people rock causes they care about. Kids ages 12 and older take action all year through Do Something's campaigns and their own projects (apply here). For more information, call 212-254-2390 or visit dosomething.org.
Support a Senior
At local nursing homes and rehabilitation centers, an afternoon of your company can make all the difference to someone. Take the opportunity to tackle a craft project or just sit and talk with a senior resident. If your family really wants to devote some time, you can "adopt a grandparent" and invite him/her to dinners and holiday parties. Below are several nursing homes that accept volunteers:
DOROT, an organization that mobilizes volunteers to improve the lives and health of the elderly and help them live independently, is looking for high school teens to volunteer with the teen internship program or with a parent/guardian. Volunteers visit the elderly, provide reading assistance for the visually impaired, help with shopping and other errands, and more. The organization is located at 171 W. 85th St. in the Upper West Side. To volunteer, call 212-769-2850 or email info@dorotusa.org.
Volunteers of all ages (if under 18, accompanied by a parent/guardian) can volunteer with the Jewish Association for Services for the Aged to pay friendly visits to residents of senior centers during the holidays, collect much-needed goods, and more. For more information, call 212-273-5211. The Manhattan service center is located at 247 W. 37th Street, 9th Floor, Midtown.
Individuals of all ages can help out at The Carter Burden Network in any one of its volunteer programs. Volunteers aid senior citizens and their families in the community through a variety of programs including grocery shopping, and computer instruction/training. For more info call 212-879-7400.
Want more content like this? Receive our Scoop packed with great ideas