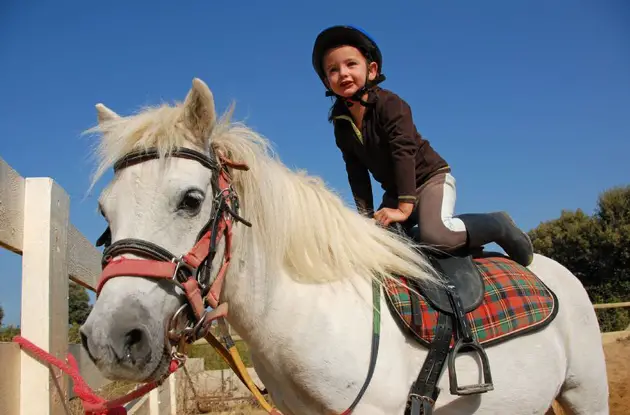 Horseback Riding Lessons for Kids in the New York Area
Giddy up!
Get family activities sent to you
Get things to do with your kids
Delivered right to your inbox
Kentucky Riding Stables
325 Union Ave., Harrison
914-381-2825
Family-owned and operated, offering riding instruction, training, and boarding with private or semi-private lessons by appointment only for riders of all skill levels. There is a weekly summer camp offered from July through August, where campers participate in daily riding instruction, leisure trail rides, and the basics of grooming, bathing, and barn management.
Stratford Stables
120 Cottage Ave., Purchase
914-939-9294
Offers year-round lessons for ages 6 and older. Small mini-camps are available during school vacations and include lessons in horsemanship. A summer camp is offered June through August for ages 6-12 and features riding, grooming and tacking the horses, and art projects. Boarding and leasing of horses and ponies as well as showing opportunities are also offered.
Twin Lakes Farm
960 California Road, Bronxville
914-961-2192
Private, semi-private, and group lessons are available daily, year round. The farm's summer camp includes riding lessons, horsemanship, and arts and crafts.
Westchester Trail Rides
6 Croton Lake Road, Croton-on-Hudson
914-539-2987
This stable offers guided horseback trail riding for all ages. Trails traverse more than 7,000 acres of land surrounding the Croton reservoir and dam. English and Western riding styles are accepted.
Long Island Horseback Riding Stables
Nassau County Horseback Riding Stables
Bethpage Equestrian Center
499 Winding Road, Old Bethpage
516-531-8007
Offers Western and English riding lessons and trail rides for ages 12 and older in Bethpage State Park. Night rides are offered in the summer. A therapeutic riding program is available for ages 5-21 of all skill levels. A "mommy and me" program for ages 18 months to 5 years includes horsemanship and some riding instruction.
Nassau Equestrian Center
62 Route 106, Jericho
516-342-1771
Lessons are offered for ages 6 and older, beginners through advanced. Semi-annual horse shows are held to showcase students' progress. Summer camp is offered June-August for ages 8-14 in which kids ride twice a day and learn to care for a horse. Guided trail rides are given for two to four people ages 12 and older.
New York Equestrian Center
633 Eagle Ave., West Hempstead
516-486-9673
Private English- and Western-style lessons are offered for all ability levels. Group lessons are for intermediate-level riders to advanced jumpers. Guided, hour-long trail rides are given through Hempstead Lake State Park for those ages 13 and older. Programs for Boy and Girl Scouts are offered, and birthday parties are available. Weekly summer camp programs are offered from late June through the first week of September, Monday-Friday from 9am-4pm. After-school fall and spring programs are also offered Monday-Friday (students choose one day per week to come in for an hour and a half).
Suffolk County Horseback Riding Stables
Babylon Riding Center
1500 Peconic Ave., West Babylon
631-587-7778
Lessons in Belmont State Park for beginners to advanced riders with private lessons, trail rides, and riding evaluations. Birthday parties are available at the ranch or your location in Suffolk County.
Country Farms Camp and Equestrian Center
200 Bellport Ave., Medford
631-345-9585
Lessons are taught to all ability levels. The facility includes 14 acres with an indoor arena. Summer camp runs Monday-Thursday in July and August for children who have completed at least 5½ hours of private lessons. Birthday parties are available upon request.
Deep Hollow Ranch
Route 27 (3 miles east of Montauk Village), Montauk
631-668-2744
Western-style beach and trail rides are offered for beginners to advanced riders. Private, guided rides are also available. Tours, trail, and beach rides for school and group trips are offered upon request. Pony rides are offered on site.
East End Stables
171 Oak View Highway, East Hampton
631-324-9568
Riding lessons and horse training are offered on site. The facility includes an indoor ring and two outdoor rings. Pony camp runs through the summer, daily (except Wednesdays) from 9am-12pm.
Island Hills Stables
26 Rocky Point Road, Middle Island
631-924-4046
Private lessons are available. There is a summer camp in July and August with riding lessons, grooming and tacking, and recreational activities (Monday-Friday 9am-2pm). Two-hour birthday parties are also available.
Rising Stars Equestrian Center
499 Winding Road, Old Bethpage
631-923-1313
Private and semi-private lessons, group lessons for intermediate/advanced riders, and mini lessons for kids are all available. After-school, holiday, customized, and birthday programs are offered. At the center's summer camp, which runs from June through August, kids can ride, groom, bathe, and tack a horse as well as play games.
Sagamore Hill Stables
7 Downs Road, Huntington
631-549-9178
Private riding lessons are offered Tuesday-Saturday by appointment for ages 5 and older of all experience levels.
Connecticut
Fairfield County, CT Horseback Riding Stables
Blue Spruce Farm
626 Wheeler Road, Monroe
203-268-6774
Lessons in English and Western riding are based on principles of yoga and tai chi. The farm has a therapeutic riding program for children with special needs, offers 1-hour guided trail rides, and hosts group events that include pony rides, hay rides, and theme parties. The farm's summer camp includes daily riding, grooming, saddling, therapeutic massage and meditation, swimming, yoga, and pizza parties.
374 Hulls Farm Rd, Southport
203-255-5092
Private, semi-private, and group lessons offered for those who want the whole package in their equine journey. Knowledgeable instructors and quality lesson horses ensure our students experience is safe, fun and educational. Indoor and outdoor facilities available.
Silver Horseshoe Riding Stable
350 Wolf Harbor Road, Milford
203-874-2168
Group, private, and semi-private lessons are offered in English and Western styles. The stable has an outdoor riding arena and a lighted indoor arena. Birthday parties are offered but space and time is limited.
Spring Meadow Farm
918 Wheelers Farm Road, Milford
203-877-4784
Private and group lessons for ages 4 and older of all ability levels. The farm hosts a summer horsemanship and riding program. Therapeutic riding lessons are available based on PATH standards.
29 Giles Hill Road, Redding
203-938-3760
This holistic farm specializes in teaching Aware Riding, focusing on releasing tension and developing senses and balance in orer to ride well. It also teaches stable management, and offers group and private classes on topics such as show preparation, braiding, mane pulling, clipping, tack fitting, tack cleaning, horse clothing, first aid, leg wrapping, restraint, feeding and nutrition, worming, shoeing options, lunging, round penning, conformation, and movement.
RELATED:
Zoos, Nature Centers, and Botanical Gardens in the New York Area
Get Weekend Activities Sent to Your Inbox
Want more content like this? Receive our Scoop packed with great ideas