Weekend plans? Get local family events delivered to your inbox.
The farm has a lot of exotic animals, too, including a zebra, camels, and a giraffe. The monkeys were super playful to watch. You are also able to enter a bird atrium that is really unique. For an additional fee we purchased food with which to feed the birds. You have a choice between two atriums--one with smaller birds you feed with sticks, the other with larger birds you feed with cups of nectar. We picked the side with nectar and larger birds. You could bring the food right up to birds and they would feed from it. My daughter had the thrill of her life when a bird decided to land in her hair. My special moment was when I got a splash on my head with, yes, bird poop.
After cleaning off we got in a short line to ride the ponies. These little guys were precious, and the handlers were friendly. You're allowed to walk next to your child or stand to the side and just watch. Both girls loved the pony rides.
RELATED: Check out the top NY-area day trips for families.

The Train Ride at White Post Farms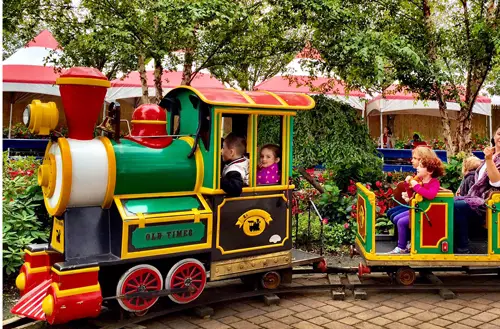 After feeding the birds we used our tokens to ride the train. This is an adorable miniature locomotive that rides a winding track surrounded by lush vegetation and flowers. The ride was cute and short. My friend and I stood from the sidelines and watched as our 5-year-olds enjoyed their 10 minutes of independence from us. Adults are allowed to ride the train, too.
White Post Farms' Fall Festival

The day we visited happened to be during the annual Fall Festival. The farm really decks the property out with festive decorations ranging from pumpkins to spiders, but nothing really scary at all. It's very family friendly. We ended our day with a fun, free hayride that drives you through a cornfield with a few props to set the Halloween tone. There is also a stop where you can get out and pick small pumpkins. You're dropped off at an area where there are much larger pumpkins available for picking.
In addition to the hayride, the Fall Festival offers face painting for an additional fee and several free shows throughout the day.

Tips for Visiting White Post Farms
Cash only and prices seem to fluctuate, so check the website the day of your visit.
Very stroller friendly
There are likely many activities you'll want to do that charge for an additional fee, so bring extra cash.
The sandbox area requires participants to take their shoes off; some kids left their socks on and some took them off, so you may want to bring a back up pair of socks.
There are bathrooms and food options on site. You can also bring your own food.
Parking is free.