Winter Weather Gift Ideas for Kids
Get can't-miss family activities sent to you!
Get the Best Kid-Friendly Activities
Sent to You Weekly!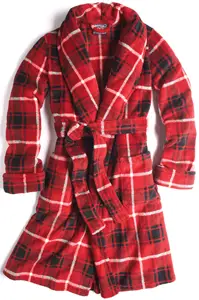 Home, Sweet Home
Dad's setting up the tree, the kids are in their jammies. Why not slip into something more comfortable yourself-like this ultra-soft plaid robe from American Living? ($58; available at JCPenney stores and at www.jcpenney.com)
Cuddle up with the kids for hot cocoa and a bedtime story-but first, deck them out in Garanimals Sleepwear. The cute gift sets come with a mini plush animal. ($10; available at Walmart)
The hardcover children's chapter book "A Tree's Christmas" comes in a gold embossed case, making it a special gift-and the circle of life story about a family's beloved holiday tree, told by a 13-year-old narrator and inspired by author Andrew Bowen's own daughter, makes it memorable. ($9.95; available at Barnes & Noble stores and at www.atreeschristmas.com)
Hit the Snow!
Treat the kids to the Zipfly Mini Luge Sled, a compact and lightweight ride that zips down hills and is easy to carry back up. Equipped with a special lever for stability and control, it's simple to maneuver and quick to stop. Comes in a variety of colors. (Ages 5 and up; $39.95; www.discoverystore.com)
Also see: Where to Cut Your Own Christmas Tree in NY, NJ, and CT