NYC Theater Review: 'Zarkana' by Cirque du Soleil
Get kid-friendly activities sent to you!
Get the Best Family Activities
Sent to You Weekly!
Should you have a budding artist or two in tow, Erika Chen's sand painting—an original and brilliant skill—will enthrall them completely.
Naturally, the closing "Banquine" troupe holds its own as the male contingent catapults fearless females into the acrobatic ether.
The Visuals
More than any other Cirque show deposited in my memory bank, Zarkana is a masterpiece when it comes to capturing the scope of imagination through surreal imagery and creativity in terms of combining cutting-edge video with imaginative props, costumes, and human beings. Theatrical to the nth degree, the stage is almost constantly teeming with spellbinding, gloriously lit panoramas such as the spiderweb and the grand finale explosion of projected roses. But do keep in mind one of the most memorable of all the show's visuals is the baby—floating, pallid, and bearing arms: six of them.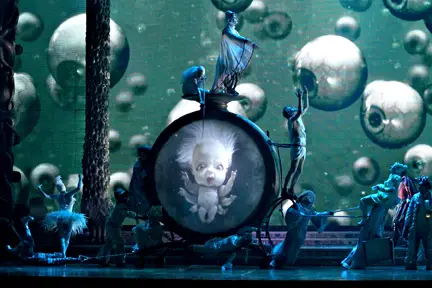 The Enticement
Montreal-native Ann-Marie Corbeil, Zarkana's artistic director, recognizes how instrumental a show like Zarkana can be to children and young adults whose lives still stretch before them. And while many of the show's European performers grew up in circus families—Ms. Choodu's mother was an acrobat, for example, whose professional career took off when she was only 14—others have discovered their own passion from the audience when a single Cirque performance sparked their own performing passion.
"Accessible and inspirational," Corbeil says, citing what she considers to be key Cirque qualities. "Kids laugh from their hearts… and it's so important to teach them early on that there are other things—other career options out there. That it's possible to have fun, travel the world, and make a good living as a performer. You don't have to be an accountant." Corbeil stresses how easy it is for some children to feel cast aside because they're not necessarily a standout in school. "Without access to other training, their potential is easily lost."
So she encourages parents to embrace the magic with their children when they come to Zarkana: "Everyone watching together…wonderful moments you see and share forever…this is what I want families to discover."
The entire cast of Zarkana takes over the stage at Radio City Music Hall during the finale.
About Cirque du Soleil
From a group of 20 street performers at its beginnings in 1984, Cirque du Soleil (Circus of the Sun) is now a major Quebec-based organization providing high-quality artistic entertainment. The company has 5,000 employees, including more than 1,500 performing artists from close to 50 different countries. Cirque du Soleil has brought wonder and delight to more than 100 million spectators in nearly 3,000 cities on six continents.
The Details
What: Cirque du Soleil's Zarkana, written and directed by François Girard, performed by 75 international performing artists
Where: Radio City Music Hall, Sixth Avenue at 50th Street, Manhattan
When: Now playing through Sept. 2: Tuesday-Friday at 8pm; Saturday at 3pm and 8pm; Sunday at 2pm and 7pm; Wednesday at 2pm. (Following its New York run, Zarkana will take up permanent residence at ARIA Resort & Casino in Las Vegas.)
Who: Ages 6 and older
Running Time: 90 minutes; no intermission
Tickets: $59-$125 with a limited number of prime and premium tickets available
To Reserve: Visit cirquedusoleil.com/zarkana, ticketmaster.com, or call 1-866-858-0008