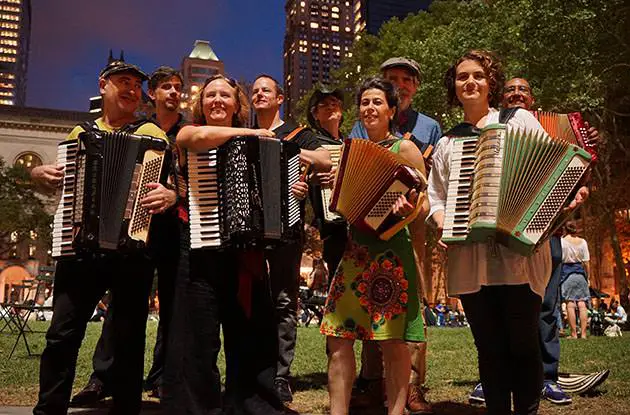 Hear Accordion Music From Around the World at Bryant Park
Get family activities sent to you
Get things to do with your kids
Delivered right to your inbox
"Bryant Park has become the place throughout the United States to see an extremely diverse representation of accordion music by very talented accordionists," Ethan Lercher, executive producer of Bryant Park Presents, said. "This summer, Ariana Hellerman has brought together many favorite players from the last three years and several new performers to highlight, plus an amazing schedule for Accordion Band Festival, which was attended by over 3,500 people last August."
So bring your picnic blankets, grab some food and drinks from nearby vendors, take advantage of a few free games, and prepare to hear some music.
Visit bryantpark.org/bryantparkpresents for more information or to view the lineup.

Main image: Accordion players at Bryant Park
Photo credit: Bryant Park Corporation

RELATED: Subscribe to our newsletter for more family activity ideas.
Want more content like this? Receive our Scoop packed with great ideas