A Family Road Trip to Pennsylvania
Lancaster and Amish country followed by a long weekend in Philadelphia provided a week of kid-focused fun, from amusement parks to museums and much more.
Get family activities sent to you
Get things to do with your kids
Delivered right to your inbox
Experiencing Amish Country: Horse and Buggy Rides & More
We did a lot of driving aimlessly around the countryside, observing the fields of produce growing, the farmers working the field, and the horses and buggies being driven by Amish people. We also loved seeing the bicycle-scooter hybrid many Amish people used to get around--think a bike without gears or pedals, with just a scooter platform instead. We took a buggy ride with an informative Amish man named David who patiently answered all our questions and described the lifestyle he and his community maintain, with minimal technology and a lot of self-reliance.
We also checked out one of the many local farmer's markets and bought our share of produce and fudge. And my kids discovered the joy of shoo-fly pie!
Philadelphia
We knew we'd left bucolic Amish country behind and were approaching the big city as traffic slowed to a crawl and the last 10 miles took us about as long as the previous 40 or so. Nevertheless, Philadelphia is a great city for kids, and we made the most of just a few days there.
We stayed at the Windsor Suites, centrally located on Benjamin Franklin Turnpike, and while it lacked the plethora of kids' activities that our Lancaster hotel offered, it did feature a rooftop pool, which was really cool to experience (after a brief bout of vertigo by one of my daughters). It is also walking distance to many attractions, especially museums. There is an out-of-the-way water playground across the street, and we spent a couple of hours just reading and playing in the children's room at the public library down the street.
American History: Liberty Bell & Betsy Ross's House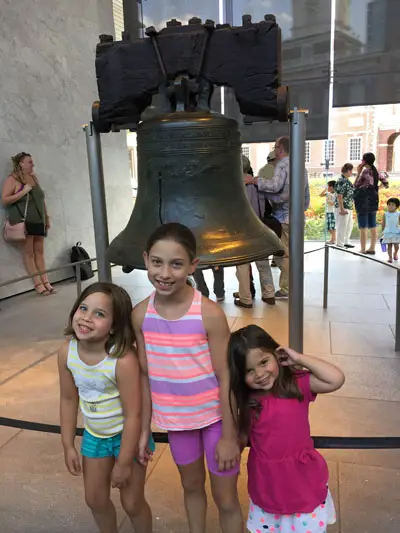 Before we even went to our hotel, we experienced some of the amazing historical sites in Philadelphia. The Liberty Bell was a quick stop, and then we walked to Betsy Ross's house a few blocks away. The house is relatively small and quick to tour, which is great for attention-challenged young people, and my kids were engaged and learned from it. The basement is particularly kid friendly, and my 3-year-old spent a while playing in the toy kitchen while the older kids took in some of the historical lessons to be learned at the exhibit.
The Franklin Institute
We spent the better part of a day at the venerable Franklin Institute, and could have come back again and again without the kids being bored or even duplicating activities. The giant heart exhibit has been around at least since I was a kid, and it's now joined by an even-more-impressive brain exhibit. My kids loved the physical challenges of the physics-teaching activities in Sir Isaac's Loft, and I enjoyed the virtual-reality experiences the museum offers. Making our time there even more meaningful, the staff is enthusiastic, knowledgeable, and eager to enhance the kids' experiences. One staff member used an ultrasound machine to show my kids inside their own arms, while another led them in an impressive paper-making activity.
Diggerland
Though not in Philly--or even Pennsylvania--we capped off our vacation with a day at Diggerland in southern New Jersey, a construction-themed amusement park. We had a great time overall riding and operating the construction equipment, though we found that even our 6-year-old did not meet the height requirement for riding many of them on her own, and she balked at sitting on our laps. The 3-year-old was even more limited, obviously, but had fewer objections to lap riding. For all the very cool construction rides--and yes, I loved it as much as the kids, maybe more--it was the rock-climbing wall and ropes course that most excited them in the end.
Want more content like this? Receive our Scoop packed with great ideas