More and more venues in NYC are hosting inclusive performances for those with ASD or sensory issues.

Get local family events delivered to your inbox.
Ajijaak on Turtle Island
When: Saturday, March 2, 2019, 7pm
Ages: 7 and older
What: Indigenous songs, puppetry, and dance weave together to tell the tale of Ajijaak, a young whooping crane who must face her first migration south.

Lincoln Center
This coming season there are five shows on the Lincoln Center's schedule that are relaxed and adapted for neuro-diverse audiences. Adjustments have been made to sensory stimuli, and there are no restrictions to sound, movement, leaving, or re-entering the theater. Tickets: $25; visit lincolncenter.org or call 212-721-6500 for more information; Clark Studio Theater, 165 W. 65th St., 7th Floor, Upper West Side.
Is this a Dagger? The Story of Macbeth
When: Sunday, Oct. 28, 11am
Ages: 8 and older
What: A one-man show version of Shakespeare's Scottish Play—for kids.
9
When: Sunday, Nov. 4, 11am
Ages: 6 and older
What: The popular Quebecois dance company returns with this show aboutBeethoven's Ninth Symphony.
You and Me and the Space Between
When: Sunday, March 17, 2pm
Ages: 6-12
What: An adventure tale using storytelling, choreographed projections, and live-drawn animation.
Scurry
When: Sundays, April 7 and 14, 2019; 11am
Ages: 3-5
What: The story of a group of squirrels who must decide what to do when a newcomer wants to join their party.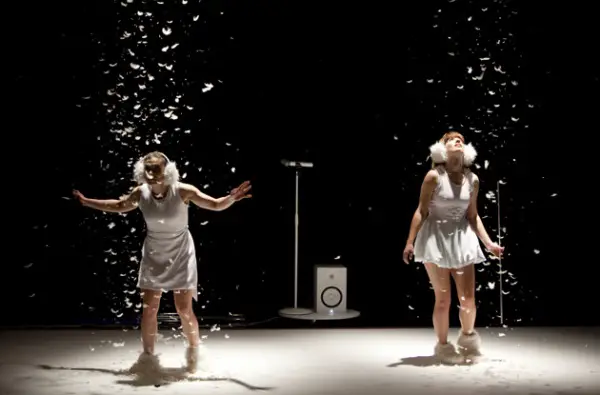 Shh…Bang!
When: Sunday, May 5, 2019, 11am
Ages: 2-5
What: Gleeful dance theater with lots of great noises and audience involvement.
RELATED: Make a night of it and go out to eat with one mom's tips for dining out with a child with autism

Symphony Space
Instead of having specific shows that are sensory-friendly, this popular venue has made the decision to make all of its productions inclusive. The house lights are turned up, sound levels are lowered, and the atmosphere is inclusive. There is also a break out space for families to go if it gets too much. Information is available about the shows in advance, and if families need to tour before the show, that's also possible. Tickets: $17; visit symphonyspace.org or call 212-864-5400 for more information; 2537 Broadway at 95th Street, Upper West Side.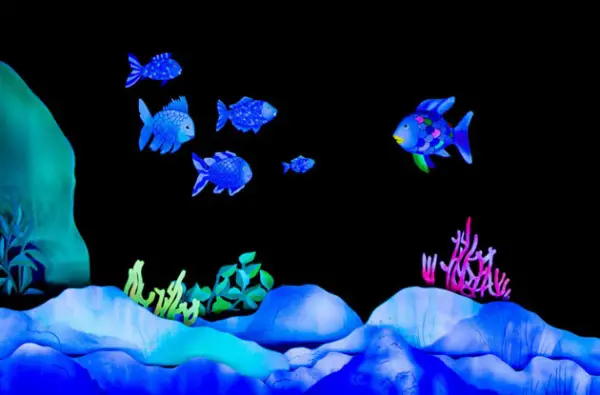 Mermaid Theatre of Nova Scotia: The Rainbow Fish
When: Saturday, Oct. 20, 11am and 2 pm
Ages: All
What: Glow-in-the-dark puppetry tale of the deep blue sea.
Justin Roberts and the Not Ready for Naptime Players
When: Saturday, Nov. 3, 11am and 2pm
Ages: All
What: This show from multi Grammy-award nominated Justin Roberts and his band is an audience favorite every year.
National Dance Institute: The Celebration Team
When: Tuesday, Oct. 27, 2pm
Ages: All
What: Kids dancing for kids!
Frogtown Mountain Puppeteers: The Legend of the Banana Kid
When: Saturday, Nov. 10, 11am and 2pm
Ages: All
What: A wild-west show of puppets, outlaws, and bananas.
Moona Luna
When: Saturday, Nov. 17, 11am
Ages: All
What: Fun music in English y Español.
Lucy Kalantari and the Jazz Cats
When: Saturday, Dec. 1, 11am
Ages: All
What: Music straight from the bygone era.
Elizabeth Mitchell
When: Saturday, Dec. 8, 11am
Ages: All
What: Elizabeth covers classic folk and rock songs by Woody Guthrie, Bob Marley, The Velvet Underground, and more.

92nd Street Y
For more than 140 years, this world-class cultural and community center has aimed to enrich, enlighten, and change the lives of community members. During the Y's sensory-friendly performances, house lights will remain on, sound levels will be lowered, audience members are free to move around the auditorium, blankets and stuffed animals will be available in the lobby for those who would like to take a break from the performance, and the theater will not be sold out to allow families more space. In addition, 92Y will have a social story available on it's site at least one week prior to the performance. Visit 92y.org for more information. 1395 Lexington Avenue, Upper East Side.
WANDA'S MONSTER
When: Sunday, Oct. 21, 2pm
Ages: 3-11
What: A fun musical with music and lyrics by superstar singer/songwriter Laurie Berkner.
Tickets: $18
RELATED: 5 tips for taking a child with autism to the movies