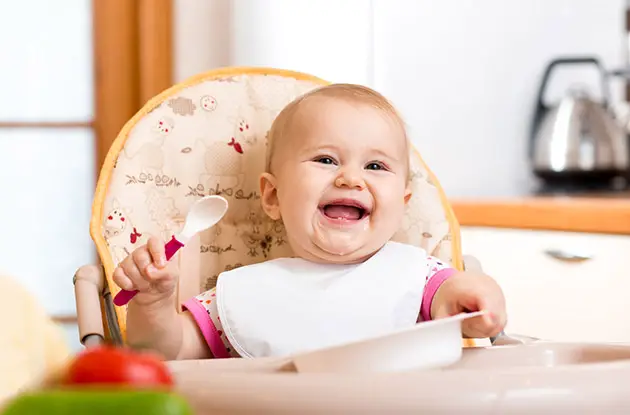 Baby's First 1,000 Days: The Impact of Nutrition
Get can't-miss family activities sent to you!
Get the Best Kid-Friendly Activities
Sent to You Weekly!
Seeing Past 1,000 Days
While experts agree with the concept that nutrition in the first 1,000 days can have a lasting impact on long-term health—and none argued that this period of time didn't matter—many considered the time period simply a good start, and only one piece of a longer-term puzzle.
"I think giving them [babies] access to appropriate nutrients is definitely important first off in infancy, but that in isolation won't really help. It's a lifelong process that you're just kind of setting up," says Corey Wasserman, M.D., a pediatrician with Weill Cornell Medicine.
Though a lot of development takes place during the first 1,000 days, there's more to come that one shouldn't lose sight of: "I think it's hard to say that there's one period that matters before all others because infancy all the way through adolescence is a time of brain maturation and physical growth and developmental achievements," Dr. Wasserman says. "Overall I agree it's very important starting in infancy to kind of set the stage for a lifetime of healthy eating, but I don't think you necessarily can put a time limit on when that time runs out."
Though she notes the impact good nutrition can have during the early stages, Dr. Levis sees nutrition as an ongoing process. "The first 1,000 days are extremely, vitally important, but a healthy diet should be maintained throughout life," she says.
Advice For the First 1,000 Days and Beyond
Pregnancy: A Nutrient-Rich Diet and Appropriate Weight Gain
According to The First 1,000 Days report, "Nearly half of women [in the U.S.] gain an excessive amount of weight during pregnancy."
Excessive weight gain can cause issues for both the mother and baby, and so Dr. Bianco provides simple, succinct advice: "Essentially, the higher your BMI is prior to conception, the lower your weight gain should be during pregnancy." According to the Centers for Disease Control and Prevention, women carrying one child with a pre-pregnancy BMI at a "normal" level (18.5-24.9) should gain 25-35 pounds during pregnancy, while someone who is obese (BMI greater than or equal to 30) should aim for just 11-20 pounds.
Regardless of weight gain, all pregnant women need to pack in the nutrients. "The nutrient needs increase but the calorie needs don't increase as much, so that can also be a little challenging for patients," Mattina says, dispelling the common adage that a pregnant woman is "eating for two."
Calorie needs typically don't increase in the first trimester, according to Mattina. In the second, women generally require an additional 340 calories per day and in the third trimester an additional 450 calories per day, "like a sandwich and a glass of milk," she says.
These additional calories can add up quickly, so it's important to look for nutrient-rich foods to add to your diet, particularly those including iron, zinc, protein, copper, folate, iodine, multiple vitamins, and certain fats.
Newborn to 6 Months: Breast Milk to the Extent Feasible
The report acknowledged the recommendation by the American Academy of Pediatrics that babies be exclusively breast-fed for the first six months, while saying that "the majority of U.S. babies are not breastfed in accordance with AAP and WHO [World Health Organization] recommendations, and 1 in 5 babies in America are never breastfed at all." The report labeled breast milk as "nature's superfood," noting how it helps early brain development and helps protect babies from infection.
The report did acknowledge the absence of support mothers face when it comes to breast-feeding, including a lack of paid time off for new moms in the U.S. And there are other reasons a mother might not breast-feed her child—and that is okay, too, experts say.
"You're not going to find a doctor who is going to argue with you [about] the benefits of breast-feeding, but I think it's important to understand that if for whatever reason women don't want to or can't [breast-feed] it is not necessarily a neurodevelopmental tragedy for the baby. Babies can grow up happy and healthy on exclusively formula," Dr. Wasserman says. "So I think the take-home message really would be that breast-feeding is not all or nothing."
6 Months and Older: Healthy Foods, Eating Habits, and Minding Beverages
As children reach 6 months and beyond, this is a time to provide them with a diverse diet of nutrient-rich foods to both help development and help shape their taste preferences for healthy foods.
To develop healthy habits and eat a well-balanced diet, experts stress the importance of slowing down, putting away the tech, and eating meals as a family. They also encourage parents to have a wide variety of healthy snacks and food available and for parents to lead by example.
"Children learn by observing, so it's really important for parents to model what a healthy diet and a healthy lifestyle is," Dr. Levis says. To add an element of fun, make the whole event of having a healthy meal a family activity—kids of all ages can lend a hand in meal planning, shopping, and even cooking. Dr. Levis encourages parents to include even picky toddlers and younger kids in meal preparation and choosing meals. "I really think it helps them become aware of what's healthy and it gets them excited about trying new things and so I think that's really important," she says.
Is your child well past the first 1,000 days? Do you fear you've fallen off track? Fortunately, experts say it's always beneficial to make a change, no matter how old a person is. Though some groundwork may be set in the early stages, "it's never too late to adopt a healthy, nutritious lifestyle," Mattina says.

RELATED:
CDC Study Reveals How Much Sugar Kids Drink Per Day