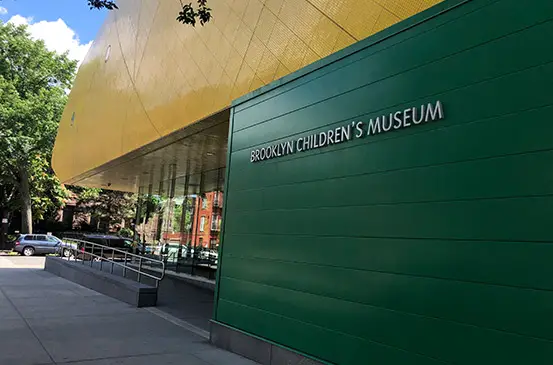 Best Kept Secrets of the Brooklyn Children's Museum
Get can't-miss family activities sent to you!
Get the Best Family Activities
Sent to You Weekly!
A special play area for children younger than 6 and their caretakers, Totally Tots provides young children with an area to explore using all of their senses, from feeling and playing in water to moving things to hear the noises they make, and browsing a book in the reading corner.
Color Lab
The Color Lab, only open for public programs and sessions on Thursdays, Saturdays, and Sundays, holds a rotating exhibit of work and materials, focusing on that of Afrofuturism in the African-American, African, and Afro-Caribbean cultures. Museum staff hosts 45-minute workshops and events in the Color Lab, which offer children of all ages the opportunity to experiment with, make, and celebrate art.
Sensory Room
With an aim to be an inclusive space for children of all ages and abilities, the Sensory Room was originally designed to serve those on the autism spectrum. Open Thursday, Saturday, and Sunday afternoons, this area engages children to explore their senses in an interactive and hands-on way through activities such as quiet reaching, materials exploration, music making, and physical movements and challenges.
Visiting Exhibits at Brooklyn Children's Museum
While the permanent exhibits are the main attraction, the museum also has visiting exhibits. Through Sept. 2, Brooklyn Children's Museum is hosting Native Voices: New England Tribal Families as a visiting exhibit gallery. Through videos, photos, and activities, children will be able to experience the daily life and learn the history of five Native American tribes from New England. Past interactive and special visiting exhibits have included Block Party, Heart and Seoul, Children of Syria, and Wilderness Camp, among many others.
Special Events Hosted at Brooklyn Children's Museum
With events such as Drag Queen Story Hour, Open Houses, and events for holidays such as Eid al-Fitr, Brooklyn Children's Museum hosts can't-miss events and programs. It also hosts an annual Spring Benefit, an adult-only takeover of the museum to support children and families in Brooklyn and beyond. For more information about what is happening now, check Brooklyn Children's Museum's special event page.
Know Before You Go
The nearest subway stops (3, A, C trains) are approximately a 10-minute walk away at Kingston Avenue and Nostrand Avenue stops. You can also take the B43/44 bus to St. Marks Avenue or the B25/45/65 to Brooklyn Avenue.
The museum is accessible with many ramps, elevators, and wheelchair handrails on most staircases.
Strollers and bags are permitted, but there is a coat check that will keep your items safe while you explore.
Restrooms are located on the first level right when you enter the museum and get your ticket. Two more, which are gender-neutral and family-friendly, are located upstairs and are accessible by elevator. A breast-feeding station is also available outside the first level restrooms.
With free Wi-Fi throughout the museum, you are sure to never miss a message.
SPARK, an art and play space located in Brooklyn Bridge Park in Dumbo, is run by the Brooklyn Children's Museum. The space is designed for children ages 6 months to 6 years, featuring a Brooklyn Block Lab exhibit, daily art and design workshops, music classes, birthday parties, and more.
Details of Brooklyn Children's Museum
Location: 145 Brooklyn Ave., Crown Heights
Admission: $11 per person; free for BCM Members and children younger than 1
Hours: Tuesday-Wednesday and Friday, 10am-5pm; Thursday, 10am-6pm; Saturday-Sunday, 10am-7pm
Birthday Parties and Events: Yes!
For more information: brooklynkids.org
Main Image: Walking from Brooklyn Avenue, the outside of the Brooklyn Children's Museum towers over the street with bright colors.
All photos by Allison Ingrum.