NYC's Top 10 Playgrounds: One Mom's View
Don't miss out on family fun ideas!
Get Sanity Saving Ideas & Activities
Delivered right to your inbox
Restrooms are available. Food vendors frequent the area.
6. Billy Johnson Playground – Central Park

Inside the park at 67th Street and Fifth Avenue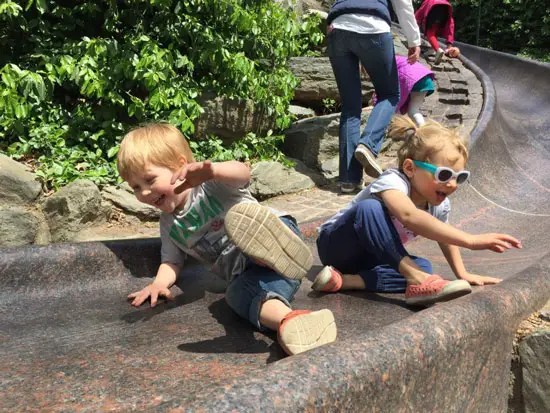 This playground is as charming as it gets. It's one of the most unique playgrounds in Central Park, with the design inspired by the landscape. Trees and plants create hidden little play areas within the playground. The landscape also provides welcome shade during the summer. My daughter loves the granite slide, which is built into a rocky hill. This playground also has an area with bucket swings, a sandbox, and a sprinkler in the summer.
Restrooms are available. Food vendors frequent the area.
7. Union Square Park Playground

14th Street and Broadway, at Union Square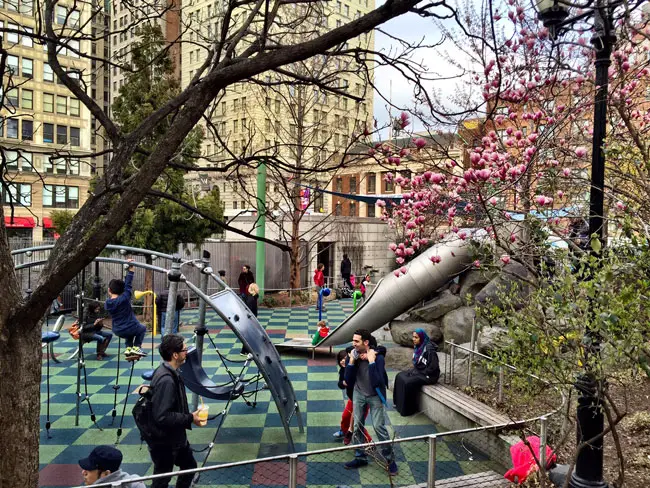 The playground at Union Square has some of the most unusual equipment we've seen. In the section for older kids, there is a unique dome that is very challenging to climb. Once you reach the top, you get a great view, and it's also really fun to slide back down. There also is a custom tube slide built into a bank of stones and landscaping with real rocks that you can use as stairs. Another one of our favorites is the self-propelled merry-go-round. In a separate section of the playground is an area dedicated to toddlers, with a swing set, climbing platform, sand, and water feature.
There are restrooms and many food options in the area.
8. Tribeca Pier 25

Pier 25 in Tribeca – North Moore Street at Hudson River
Tribeca's Pier 25 is another playground at which you can easily spend a whole afternoon. This playground probably offers the most activities of all. These include two giant climbing structures, which lend themselves to great photo ops with towering skyscrapers as a backdrop. My daughter's favorite feature is the outdoor rock-climbing walls. In addition, this playground has swings for big kids and infants, a huge sandbox, and a water play area. For a fee you can play mini golf or beach volleyball, and there is a soccer field and skate park nearby. The water feature offers relief from the sun, but it gets quite hot in the summer.
There are restrooms and a snack bar in the area.
9. River Run Playground

103 Riverside Drive at 83rd Street
River Run is a sweet playground located in Riverside Park. This little playground has a river running though it. It starts from a fountain at the top a small hill, flows down a winding path, and ends at the bottom of the incline next to a huge sandbox. Kids often float paper boats and plastic toys down the little stream, enjoying the cool water in the hot summer. The 35-foot sand pit has a unique concrete mermaid in the middle. They also have classic playground equipment such as swings, a seesaw, and a jungle gym. Just outside this small playground are giant rocks, which we often spend a lot of time climbing when we're finished in River Run.
There are restrooms and usually a food vendor in the area.
10. New York Hall of Science Playground

47-01 111th St, Corona – part of Flushing Meadows-Corona Park
This is probably the most innovative playground on the list. It's part of the New York Hall of Science and designed to teach kids lessons ranging about balance, sound, and the principles of motion. It's always a bonus when your kids are playing hard yet learning important concepts with hands-on experience. My daughter's favorite feature seems to change with each visit. We normally spend most of our time between the slides and a spinning contraption on the upper deck of the playground. Other favorites are the seesaws, the Archimedes screw, and the water play area. The playground is huge. There are bridges, levers, climbing nets, and wind pipes to entertain your little scientists for hours. It gets hot in the summer, but they have an indoor cafe and restrooms next to the playground.
The playground is $5 per person in addition to the general NYSCI admission. The Science Playground is free for NYSCI Premium and Family Explorer Members.
Most NYC playgrounds are open from 8am to dusk, year round. Please check the parks department website for accessibility, special features and additional information: www.nycgovparks.org/facilities/playgrounds.
RELATED: Great NY-area day trip ideas!
Want more content like this? Like us on Facebook!