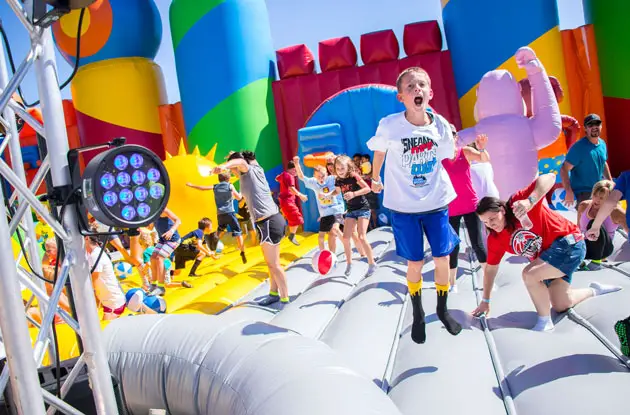 The Big Bounce America Tour Is Bringing 20,000 Feet of Inflatable Fun to Brooklyn
If your kids love bounce houses, they'll have the time of their lives this summer in The Big Bounce America's three different inflatable experiences in Brooklyn, including the world's largest bounce house.
Get Great Family Activities!
Great Family Activities Sent To You!
Arriving weekly
RELATED: Find more fun things to do with your kids in Brooklyn
Parents and kids can jump together during the day in family sessions, and ages 16 and older can jump at night to experience all the inflatable attractions without kids around. Everyone who wants to bounce must choose between two types of tickets: a three-hour, full-access experience with a timed session in the bounce house, or a bounce-house-only ticket.
Full-access tickets are $16 for kids younger than 3, $24 for kids 15 and younger, and $28 for kids 16 and older. Bounce-house-only tickets are $19 for kids 7 and younger, 15 and younger, and kids 15 and younger who would like a sensory-sensitive bounce session. Parents and caretakers are included in ticket prices.
The Big Bounce America will bring all of its inflatable attractions to the Aviator Sports and Events Center in Marine Park on July 26-28 and Aug. 2-4.
RELATED: Get the best weekend activities in your inbox
---
Want more content like this? Great Family Activities Sent To You!
---