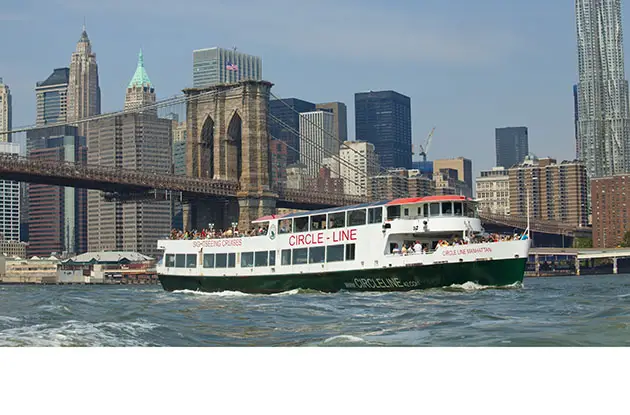 Where To Catch a Boat Ride in the New York City Area
Set sail!
Get family activities sent to you
Get things to do with your kids
Delivered right to your inbox
Boat Rides in Fairfield County, CT
The Maritime Aquarium
10 N. Water St., Norwalk
203-852-0700; maritimeaquarium.org
Rides: All cruises are on the R/V Spirit of the Sound, the only research vessel in North America with hybrid-electric propulsion. Aquarium educators are aboard every cruise. The Marine Life Encounter Cruise includes sampling techniques such as a plankton tow, trawl net and biodredge that brings up a variety of fish, crabs, and mollusks. A video microscope and large touch tank on board enhance observations. No food is available for purchase, but passengers can bring their own on the lighthouse cruises and Sunset Cruise. Passengers must be over 42" tall to ride and children under the age of 18 must be accompanied by an adult.
Hours: Central Long Island Sound Lighthouse Cruise: 10am-3:30pm on Saturday a month in May, July, and September. Western Long Island Sound Lighthouse Cruise: 9am-4pm one Saturday a month in June and August. All-Ages Sunset Cruise: 6:30pm-8pm on selected Saturdays. Marine Life Encounter Cruises: 1:15pm-3:45pm most Saturdays and Sundays from May 13 to Sept. 30. Some cruises will depart at 10am, 2pm, or 4pm. Check website for exact dates and times.
Cost: Central Long Island Cruise: $70. Western Long Island Sound Lighthouse cruise: $75. All-Ages Sunset Cruise: $29.95. Marine Life Encounter Cruise: $29.95. Aquarium members receive a $10 discount on lighthouse cruises and a $5 discount on the Marine Life Encounter Cruise. Reservations are strongly recommended and in some cases required.

Sound Waters
Cove Island Park, 1281 Cove Road, Stamford
203-967-8306; soundwaters.org
Rides: Explore the Long Island Sound aboard an 80-foot Schooner on an afternoon sail designed for families. Work together to raise sails, discover what inhabits the water of the Sound, sample and test water quality, learn about hypoxia, and analyze groundwater. Alternatively board the Schooner at sunset for dinner and beverages. All passengers must be 5 years for both.
Hours: Afternoon Sail: Saturday-Sunday 3-5pm or 2-4pm from May 26-Sept. 30. Check the website for exact dates and times. Sunset Sail: dates vary; Fridays, Saturdays, or Sundays for two hours departing at either 5pm, 5:30pm, 6pm, or 6:30pm. Check website for exact dates and times.
Cost: Afternoon Sail: $30; $20 seniors; $15 children. Sunset Sail: $40.


RELATED: Top Family Activities in June in NYC Area
Boat Rides in Nassau County, Long Island
The WaterFront Center
1 W. End Ave., Oyster Bay
516-922-7245; thewaterfrontcenter.org
Rides: The WaterFront Center offers Harbor Tours, Sunset Cruises, and Marine Discovery Sails aboard the Christeen Oyster Sloop. The Sunset Sail is a two-hour long evening cruise around Oyster Bay. The Harbor Tour is a sail around West Harbor, Oyster Bay, and Cold Spring Harbor. The Marine Discovery Sail is best for children as it offers fun and educational activities for the whole family. Children ages 3 and older with an accompanying adult are permitted on all three sails.
Hours: Sunset Sails: 6pm-7:45pm Tuesdays, Wednesdays, and Thursdays from June 19 to Aug. 30. Harbor Tour: 10am-12pm select Saturdays and Sundays from June 16 to Oct. 6. Discovery Sails: 10am-12pm select Saturdays and Sundays from June 9 to Sept. 1.
Cost: Harbor Tour and Discovery Cruise: $25. Sunset Cruise: $30.

Freeport Water Taxi and Tours
211 Woodcleft Ave. Nautical Mile, Freeport
516-521-7744; freeportwatertaxi.com
Rides: The One Hour Day Cruise is perfect for families that want to enjoy the bays of South Shore of Long Island. A variety of other cruises more geared towards adults, special event cruises, fishing excursions, and seal watching cruises (only run from October through April) are also offered.
Hours: 12pm, 1:30pm and 3pm on Saturdays and Sundays from June through September.
Cost: $15 adult; $10 child; free for children 5 and younger.

Captain Lou Fleet
31 Woodcleft Ave., Freeport
516-623-5823; captloufleet.com
Rides: Climb aboard the110 foot Starstream VIII, a Modern Super cruiser for half day fishing trips. Bait and tackle are provided while there is a rod rental fee. A full snack bar is provided in the climate controlled cabin, though passengers are welcome to bring aboard their own food and beverages. The experienced Captain and crew offer assistance and clean your catches for free.
Hours: 8am-12pm and 1pm-5pm daily during summer and fall season.
Cost: Half Day Fluke Trips: $44 adult; $32 children 4-12; free for children 3 and younger; $25 children on Tuesdays from June to September.

Boat Rides in Suffolk County, Long Island
American Beauty II
Sag Harbor
631-375-5211; americanbeautycruises.com
Rides: Guests can choose either a 90 minute Nature Cruise or 2 hour Sunset Cruise. The Nature Cruise explores the Peconic Estuary System. Learn about the history of Sag Harbor, view the historic whaling village, and see Barcelona Point, Cedar Point Lighthouse and Mashomack Nature Preserve with full osprey nests on Shelter Island.
Hours: The Nature Cruise departs daily at 11am, 1pm, and 3pm from June to September. The Sunset Cruise departs Thursday through Monday from June 23 through Sept. 2 at varying afternoon times. Cruises also available on select weekends during spring and fall. Schedule may vary due to charters and weather. Call for updates.
Cost: Nature Cruise: $30; $20 children ages 5-12; free for children younger than 5. Sunset Cruise: $42; $29 children.

Long Island Aquarium
431 E. Main St., Riverhead
631-208-0466; longislandaquarium.com
Rides: Add extra aquatic adventure to your visit with an interactive cruise aboard the Atlantis Explorer Tour Boat. Enjoy hands-on exploration including trap pulls, horseshoe crab encounters, and a stroll along a remote beach.
Hours: Departs weekends at 12pm and 2pm during May; Saturday-Sunday 12pm and 2pm in June; Daily at 12pm, 2pm, and 4pm from July through Labor Day; Weekends at 12pm and 2pm in September.
Cost: Tour boat only: $20 adult and child; $5 for children ages 2 and under. Combo Aquarium Admission: $42.50; $35.50 children ages 3-12; Discounts for aquarium members and Suffolk County green key cardholders.

Discovery Wetlands Cruise
Stony Brook Marine Services
631-751-2244; wmho.org
Rides: The 27-passenger pontoon boat "Discovery" cruises through The Ward Melville Heritage Organization's 88-acre wetlands preserve for a 1.5 hour tour. A naturalist is onboard to describe the wildlife and flora.
Hours: Scheduled by tide table through Oct. 20. Check site for full schedule.
Cost: Advance registration: $28; $25 seniors and students; $18 for children 6 and younger. Walk-ons (cash only): $35; $30 seniors and students; $20 children.

The Moon Chaser
Captree State Park, Babylon
631-265-1848; themoonchaser.com
Rides: Great South Bay Excursions feature a live 1.5 hour narrated tour of the wildlife, history, scenery of the Great South Bay and Fire Island coastline. Boxed lunches are allowed. The Moon Chaser is a 65 foot vessel with an enclosed main deck, comfortable seating, fully equipped nautical bar, and upper canopied sun deck. Special packages for groups of 30 or more or private excursions for day camps and schools are also offered from June through September.
Hours: Wednesday-Thursday 1-2:30pm from July 7-Sept. 1.
Cost: $15; $13 seniors; $11 for children 12 and younger; free for children every Wednesday (1 child per adult)

Sailing Montauk/Mon Tiki
32 Star Island Road, Montauk
631-668-2826; sailingmontauk.com
Rides: Mon Tiki is a US Coast Guard Certified 40-foot eco-conscious catamaran inspired by traditional Polynesian double-canoe designs. Come aboard for scheduled sailing trips such as the Sunset Cruise, Discover Montauk Sail, and Three Hour Sail and Swim. Children under the age of 5 may not board the Sunset Cruise. All ages are welcome on daytime cruises. The Three Hour Sail and Swim only runs during the summer.
Hours: Sunset Cruise: 6:30-8:30 most days of the week until July 15. Discover Montauk Sail: 12-2pm on varying days. Check for official times and dates on the website.
Cost: Sunset Cruise: $60. Discover Montauk Sail: $65; $45 for children 11 and younger. Three Hour Sail & Swim: $95; $65 for children 11 and younger.

Sign up for our newsletter to receive the latest updates on fun events and other family activities in your area.
Want more content like this? Receive our Scoop packed with great ideas