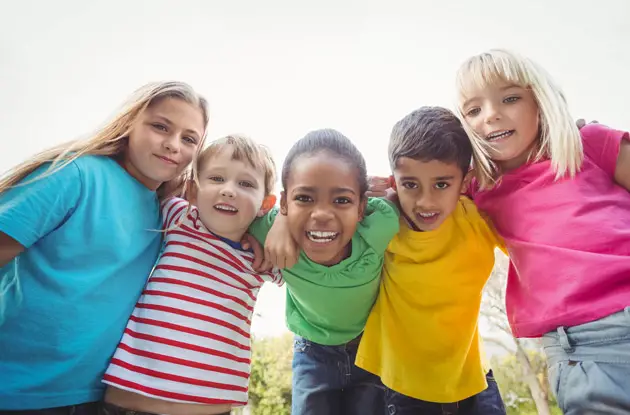 10 Things Learned at Camp that Benefit Kids in School
Sending your children to summer camp has many lasting benefits—especially when it comes to education.
Want more family activity ideas?
Get things to do with your kids
Delivered right to your inbox
Try new things, especially if they make you uncomfortable.
There was a giant rock called Geronimo on the shoreline at camp. I always thought those who climbed it and jumped off were exceptionally brave. I was petrified to try this myself, yet somehow when I wiped the foamy sea from my face and came up for air, I felt exhilarated. The idea of being afraid, taking a deep breath, and doing it anyway applies to core classes in school and far beyond. Walking into a new high school, not having any friends in your lunch period, or deciding to join the Robotics Club when everyone else is going to chorus—every day at school there's a bit of discomfort, but applying this lesson from camp creates ease, lessens stress, and empowers youth. Later in life, my best friends from camp and I lived in other parts of the world, grew gardens, raised children, started businesses, got married, and even made new friends. Each of these things involved stepping beyond our comfort zone, yet even the bumps and bruises along the way have been incredibly worthwhile. George Addair is right: "Everything you've ever wanted is on the other side of fear."

Show empathy.
At every camp I went to and worked at, at some point in the day, there was swimming of some kind—whether it meant walking down more than 200 steps to the beach or leaving the locker room, getting a buddy, and heading to the pool. The exercise it provided was good for both mind and body, but the empathy learned through swimming sessions delved deeper. Learning to swim is scary. For some campers, it's their first time seeing open water. Some have had a traumatic experience in the water and must overcome something far more challenging than stepping their toes over the many unsteady rocks. Some take longer to learn one portion of a stroke before moving on to the next. The instructors taught all of us with ease, kindness, patience, and most importantly empathy. Throughout the school year, students put into action those life lessons: listening to understand each other, utilizing each others' strengths, lending a hand with each others' weaknesses, and being aware of various needs and abilities.


Diversity matters.
There were approximately 10 campers per cabin, five cabins per unit, and nearly 15 cabins that formed all of upper girls camp at my summer camp. If an outsider took a straw poll, the diversity levels would have rated off the charts. The differences made us stronger, taught us tolerance, built community, empowered empathy, encouraged perspective, raised our awareness of others' journeys, and made us better people. School is much the same; there are as many differences as there are students in a school, from backgrounds and traditions, to interests and hobbies, to family units and dreams for life after school. Seeing these differences as vital, enriching, and encouraging creates safe spaces, enables growth, and opens minds. A classroom has 30 different students with 30 different stories. Each peer has merit, value, and purpose. Camp teaches us to embrace them all.

Sharing is caring.
Everyone is a teacher at camp. Debbie inspired me to be a lifeguard. Katie shared her love of travel, inspiring me to go off on my own adventures. Millie taught me to cook. Krista taught me to swim and shared her snacks. Each of them, along with many others, shared their wisdom. Each camper and counselor has something to offer, creating a sense of community that in turn benefits students and schools. Campers, and later students, learn that school is a safe space where adults share wisdom and advice and guidance comes in many forms. Some students learn best from a teacher, others confide in their coaches and advisors, some chat with the nurse, cafeteria workers, librarians, or the many others who are a part of the school setting. Students become better friends, better learners, and are more willing to put their talents out there in the world. Compassion, knowledge, and talents are shared at lunch tables, in after-school activities, and in the classroom. It truly does take a village, and embracing that mindset creates a culture of community-minded youth.

Be proud of your achievements.
As a sleepaway camper, I couldn't wait for Sunday night's council fire. That was when the entire girls camp got together and sang songs, and one cabin was awarded Honor Cabin. People got their swim certificates, and the whole camp celebrated newly appointed lifeguards. As an aquatics director at a day camp, I gave out swimmer of the week certificates to various campers. As a student, it feels good to have your work honored, your creations displayed, and your efforts encouraged. Success isn't built overnight and learning to take pride in your achievements begins at camp and continues into school—and later into adulthood. At camp I learned from an early age to strive for goals, be proud of achievements, and continue reaching for the next, often seemingly unattainable, goal.

My camp brochure had pictures of open water, cool cabins, enticing evening activities, animals and arts, fields and farming; it looked as if you could jump directly into all of the fun. The pictures couldn't possibly quantify the learning that happened, all of the skills acquired, the positive experiences, or the personal growth that took place. Ask any former camper what they remember and you'll get stories of escapades with friends, cool counselors, awesome activities, and endless fun. Ask them what they learned at camp and be prepared to settle in for an infinite list of hard skills, soft skills, and life lessons that helped turn them into the person standing in front of you today. Camp lessons aren't scored on a rubric or a bubble sheet, on a multiple-choice assessment or in a three-page essay. These lessons stand the test of time, open minds, build bridges, impart skills and wisdom, and create communities of happy, kind, fulfilled humans. It's hard to imagine a better score than that.
Want more content like this? Receive our Scoop packed with great ideas