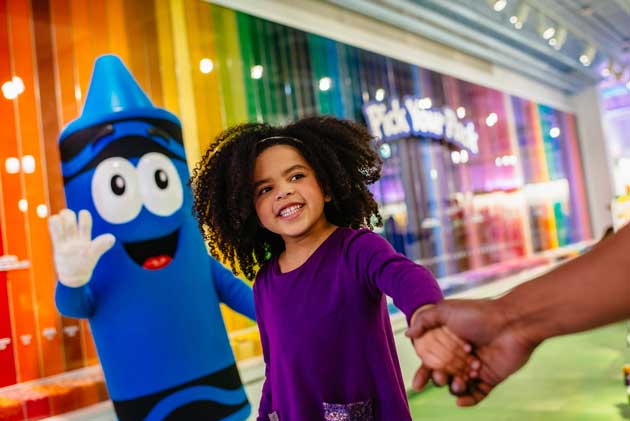 The Crayola Experience, Where Everyone Is an Artist
Get can't-miss family activities sent to you!
Get the Best Family Activities
Sent to You Weekly!
Next door, the dimmed lighting at Doodle In The Dark will help bring their energy level back to normal as they experiment with light, color, and interactive media. Kids can doodle on light boards with neon markers, dance in front of a special screen that displays an animated crayon guy mimicking their every move, or play on the floor screen where the projected objects move when stomped on.
Lunch Time: Cafe Crayola on the 1st floor is quick, easy, and tasty as long as you're ok with typical kid-friendly fare. There's also the option to bring lunch and picnic on site, or if you'd like to venture out to one of the restaurants nearby, make sure you get your hands stamped for re-entry.
After re-fueling, the second floor has high-tech activities to satisfy your post-millennial Picassos. Your older ones will love creating a computerized 4-D animated adventure of their own drawing at Color Magic, and you can bring the little ones to Be A Star, where they can make a coloring page using their own image. Down the hall they can get their sensory groove on at Modeling Madness, which features Crayola's unique foam-like version of play-dough. Token and cash vending machines sell the Model Magic in almost every color, and they can sculpt away at tables set up with tools.
If You Have Extra Time
The highlights explored above usually have little or no wait time involved, which any parent of little kids knows is paramount. But if they have the patience to wait on line, the fourth-floor activities are fun, too. At Melt & Mold they can turn a crayon into a keepsake (a ring, dinosaur, or crayon guy), and the Drip Art station is good ol' spin-art using melted crayon wax. The third activity on the floor generally has less of a line, so if you have another adult with you, it might be worthwhile to split up and have one wait on one of those lines while the other comes to Meltdown with the kids, where they can paint with melted crayon wax.
If you still have some steam left, and the thought of bringing your kids to a store doesn't make your head explode, visit the Crayola Store on the first floor. Along with their ubiquitous branded products they sell cool Crayola souvenirs unique to the site, customizable crayon and marker sets, and t-shirt ands puzzles made from creations you colored earlier.
At the end of your Crayola Experience, the goodie bags are filled with projects and keepsakes, you've all majorly scratched your coloring itch, and you can still make it home in time for dinner.