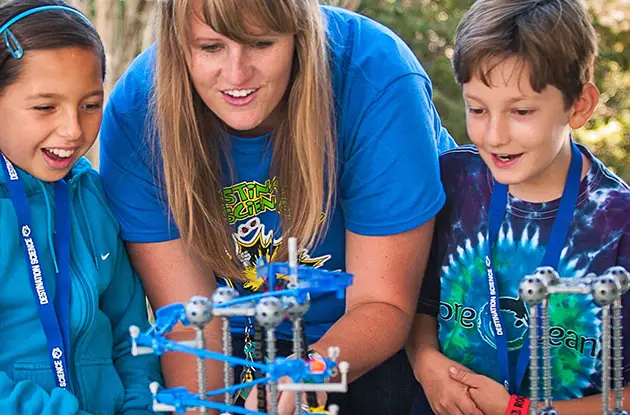 How Camp Can Spark a Lifelong Passion for Science
Get can't-miss family activities sent to you!
Get the Best Family Activities
Sent to You Weekly!
Learning is Fun!
The other thing about summer is, of course, that summer is fun. We all have our memories of splashing in water, running on a field, or just lounging around with friends and doing nothing. And in a camp setting you can incorporate all of those activities into the learning. At Destination Science, learning is a main focus but having fun is equally as important. "We make sure that the kids are making new friends, having that social connection that's so important to them, being exposed to new ideas that are fun and exciting, but without the pressure of having to do it, having to learn," Heragthy says. "We want kids to learn different concepts because it's there and it's cool and everyone's doing it and it's going to result in fun. I really think the summer camp setting is the perfect arena for being able to kind of saturate that passion and that interest and intermix it with all the joys of summer, with all the fun and friendship that goes with that."
The Future is Bright
Of course school is necessary to a child's upbringing and future. Science camp is by no means a replacement, but it can act as a supplement and help create lasting memories that will encourage a child to pursue a subject such as science or technology in the future. "We immerse the kids in science for five consecutive days and at a very young age they're getting to really experience it fully. There have been many different research studies that have shown that by the 4th grade kids start to lose an interest in science and that by the 8th grade they say that 50 percent of kids have lost interest in science. Most of them probably didn't have these kinds of experiences that we're talking about where you're getting to be so immersed in the science in such a fun project-driven solution-oriented challenge as we can do in a camp setting," says Heragthy.
Cultivating a love of science early on means more scientists, technologists, engineers, and computer programmers in the future--and that's good for all of us!