Halloween Tricky Bites
Get kid-friendly activities sent to you!
Get the Best Kid-Friendly Activities
Sent to You Weekly!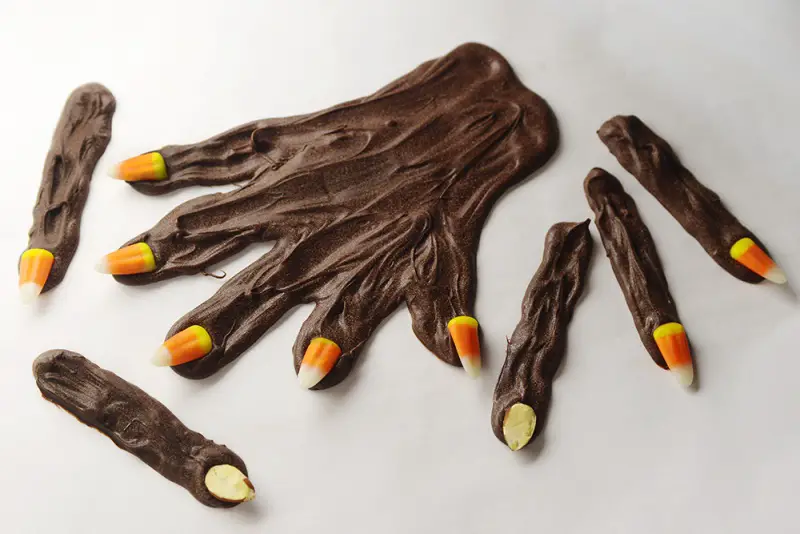 Chocolate Fingers
Melt dark chocolate over a double boiler or in the microwave. Do not let any water drip into the chocolate. Using a thin spoon, lay fingerlike strips of chocolate on parchment paper. Top each finger with an almond half or a candy corn to resemble nails and refrigerate to set.
To make a hand, trace a hand in pencil on parchment paper. Turn over so chocolate does not touch the pencil lead. Using melted chocolate, fill in the hand by pouring it gently and "painting" it on with a small pastry brush. Top with candy corn for fingernails
To create a double boiler, place a glass bowl over a pot with boiling water. Be careful to not let the water touch the bowl, as your chocolate may scorch. To melt chocolate in the microwave, cover a bowl with a paper towel and microwave for 30 seconds. Stir chocolate before placing in the microwave for 15 second intervals--stirring between turns--until chocolate is melted. Chocolate melts most evenly when it is broken into chips or small pieces.
Apple Monster Mouths
Cut an apple into slices and drizzle with lemon juice to prevent browning. Spread peanut butter on one side of a slice, and place mini marshmallows on top of the peanut butter. Place peanut butter on another slice and top the marshmallow teeth.
Chocolate Spiders
Make your favorite brownies from a store-bought mix or your own home recipe. (Try our amped-up recipe here, but omit the liqeur for trick-or-treaters.) Once cooled, cut brownies into ovals. Cut black string licorice into 8 legs and stick the licorice legs into the sides of the brownies. White or yellow M&Ms, white-chocolate covered nuts, or bite-size marshmallows can all serve as eyes; stick them on the front of the spider with icing or push them into the brownie. Use orange or black edible cake-decorating glitter--again, "pasted" on with icing--to decorate the spider's back.
All recipes by Maryjane Cooke. Photographs by Neal Willis.
Also see:
Fun and Easy Recipes to Make with the Kids: Goblin Delights
Fun and Easy Halloween Recipes from a Celebrity Caterer
Healthy Halloween Recipes from Weelicious
Here at NYMetroParents, we've got everything you need to have a safe, fun, and festive fall and Halloween season. Whether it is pumpkin or apple picking, getting lost in a corn maze, making Halloween crafts or finding costumes and decorations, we're here to help.