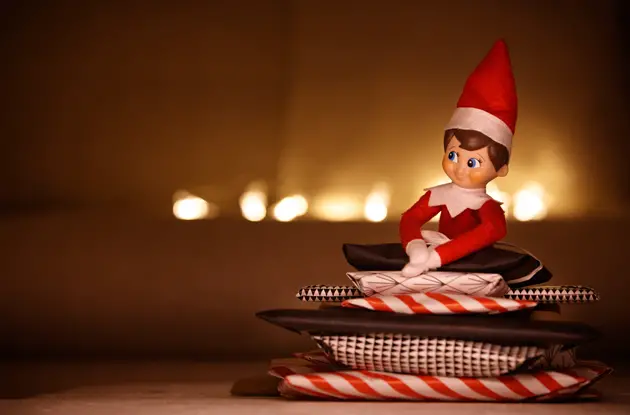 The Pros and Cons of Elf on the Shelf
The little guy has sparked some big controversy! Which side of the shelf are you on?
Get kid-friendly activities sent to you!
Get the Best Kid-Friendly Activities
Sent to You Weekly!
"I had an alternate version in my house growing up. It was called the Kindness Elf and my mom did a pretty good job of making it a positive thing," says Lauren Farrell, a student at New York University. "It was generally kept in public spaces within the house and every day I had to find the elf and it was always holding a different card that challenged me to do something kind for someone that day."


Elf Alternative
If the elf doesn't quite match your aesthetic (even though felt is so in right now) you can always give Reindeer in Here a chance: It's a plush toy children are meant to bond with during the month of December. It's similar to the elf, except children can touch and play with it, and its purpose is to listen to what the child really wants for Christmas and then inform Santa. "It's not about watching a child, or intimidating a child," says Adam Reed, an author, television producer, and creator of Reindeer in Here. "It's about empowering and creating a positive Christmas tradition that families can look back to."
Reindeer in Here is also designed with one antler shorter than the other and has a companion book that features a cast of sidekicks with visible differences, such as a cross-eyed penguin and a polar bear with a bit of a bald patch. "The true message is being different is normal, not being different is special," Reed says. "This book is about getting to the heart of why each child is unique and different and finding what their true Christmas wishes are."


Make Room for a Mensch
But let's not forget that the holiday season is more than just Christmas. For all you guys and gals who celebrate Hanukkah, there's a Mensch on the Bench—a Jewish man sitting on a bench—just for you. "It's tough to be Jewish during the month of December. Already there's Christmas music on every radio, and there's decorations up, and all your friends have trees. You're already feeling a little left out, and then Elf on the Shelf comes along and now we're seeing that on social media as well," says Neal Hoffman, creator of Mensch on a Bench. "There was an opportunity for what would be a Jewish alternative."
Enter the Mensch (which translated literally means a person of integrity and honor). It's a plush toy that watches over the menorah at night and encourages more family time and engagement with pre-existing Hanukkah traditions such as playing dreidel and eating latkes (potato pancakes) and gelt (chocolate coins).
The Mensch also places an emphasis on charity and doing good, as the name would imply. "Mensches encourage kids to do one good deed," Hoffman says. "One of the rules for having a mensch is that on one night of Hanukkah you give presents to someone in need rather than get presents yourself."


Whether you love your elf (or mensch) or wish it would just stop staring at you, here's to a happy and wholesome holiday season with your family.
RELATED: Where to Take Photos With Santa