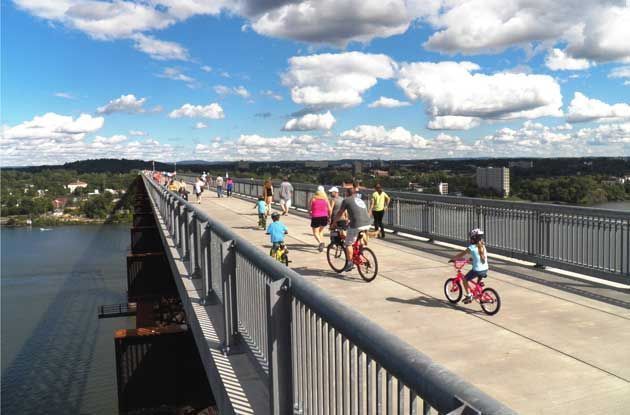 A Day Trip to Poughkeepsie: Three Activities for the Perfect Visit
Get kid-friendly activities sent to you!
Get the Best Family Activities
Sent to You Weekly!
Next stop: Lunch at The Mill House Brewing Company
Yes, I have three kids age six and under and went to a bar for lunch--and it was awesome! A four-minute drive from the Walkway's general parking lot, the Mill House Brewing Company offers a balance of great options for both kids and grown-ups alike. The restaurant also has plenty of vegetarian options which was an added plus for us. Bonus: Kids' food comes with ice cream cones, so no need to make a special trip anywhere else. In summary: not cheap, but worth it.
Final stop: The Mid-Hudson Children's Museum
A small but mighty museum that is great for the six-and-under-set. As I mentioned above, there is a $5 fee for the parking lot, but if you visit the museum, it will be validated (and they'll remind you, which I appreciated). Directly on the Hudson River, the Mid-Hudson Children's Museum is the perfect spot to cool off (or warm up in the colder months) for a couple of hours while your kids roam free throughout the exhibits. My six-year-old loved it as much as my two-year-old. If you prefer to bring your own food rather than go out to eat, there's a covered outdoor area right on the water where you can eat, or if the weather isn't great, there are a few tables indoors designated for picnicking. All in all: $8/ticket and a great way to entertain the little ones.
The entire day was a win, and if asked if we'd go back, the answer is unequivocally yes.
RELATED: Find Great Family Activities Near You
Photo at top of the Walkway Over the Hudson credit: Fred Schaeffer.