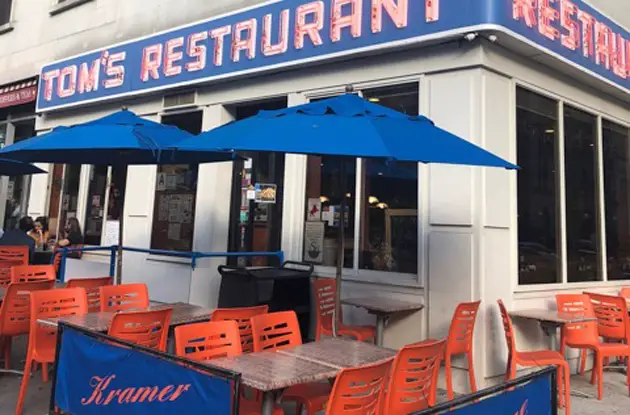 The 14 Best Kid-Friendly Diners for Families in Manhattan
Eat at one of these New York City diners with your kids!
Get kid-friendly activities sent to you!
Get the Best Family Activities
Sent to You Weekly!
Big Daddy's
239 Park Ave. S., Gramercy; 212-477-1500
Hours: Monday-Thursday, 8-12am; Friday-Saturday, 8-5am; Sunday, 8am-11pm
Why we like it: The second outpost of this colorful, fun tribute to an '80s style diner is also complete with great music and pictures of 90210 on the walls. If you're a tater tot fan, this is the place for you.

Family-Friendly Diners in Lower Manhattan
Landmark Coffee Shop
158 Grand St., Little Italy; 212-334-0040
Hours: Daily, 6am-6pm
Why we like it: This small diner opened in 1962 and has been serving locals and tourists ever since. A great spot to visit after a trip to the nearby Museum of Chinese in America or the Italian American Museum.

Remedy Diner
245 E. Houston, Lower East Side; 212-677-5110
Hours: Open 24 hours, 7 days a week
Why we like it: The beautiful chrome sign and retro interior ticks all the aesthetic boxes, despite only being open since 2007. One of the few places we visited to have huge, round booths, perfect for bigger groups. A great choice if you don't want to line up for one of the many hyped restaurants nearby like Russ and Daughters, Katz's Deli, and Clinton Street Baking Company.

Odessa
119 Avenue A, East Village; 212-253-1482
Hours: Open 24 hours, 7 days a week
Why we like it: This New York favorite has a huge, kitschy interior, and its vast menu includes lots of Eastern European favorites. It's located opposite Tompkins Square Park with its fun kid's playgrounds, so the kids can burn off all those pierogis and kielbasa afterward.

Square Diner
33 Leonard St., Tribeca; 212-925-7188
Hours: Monday-Friday, 6am-9pm; Saturday-Sunday, 7:30am-4pm
Why we like it: Located in an original train car diner, the classic interior has been featured in many TV shows and photo shoots. It's a small restaurant, with great food and cash-only service, so come early.

La Bonbonniere
28 Eighth Ave., West Village; 212-741-9266
Hours: Saturday-Sunday, 7am-4pm; Monday, 7am-1pm; Tuesday, 9am-1pm; Wednesday, 9am-12pm; Thursday, 8am-1pm; Friday, 7am-8pm
Why we like it: Hugely popular with West Village locals, this small and low-key spot offers a great contrast from the usual fancy village brunch option. Cash only.

Waverly Restaurant
385 Sixth Ave., West Village; 212-675-3181
Hours: Open 24 hours, 7 days a week
Why we like it: This Landmarked Greek diner, with its famous sign, has been serving food in the West Village for more than 30 years. The interior was recently renovated but in a way that maintained the original look and feel.

Pearl Street Diner
212 Pearl St., Financial District; 212-344-6620
Hours: Monday-Friday, 7am-9pm; Saturday-Sunday, 8am-2:45pm
Why we like it: This downtown spot has been serving for more than 50 years. You won't be able to resist taking a photo of the neon diner sign dwarfed against the skyscrapers. Plus, it's just around the corner from the South Street Seaport for a great lunch option if you're in the area.