Your Kids Will Love These Super Bowl Snacks
16 ideas for your football watch party that are family-friendly, healthy, or vegan.
Get kid-friendly activities sent to you!
Get the Best Kid-Friendly Activities
Sent to You Weekly!
Ingredients
1 cup 0-percent or low-fat plain Greek yogurt
¼ cup honey (or to taste)
¼ tsp. ground cinnamon
Sliced or cubed fresh fruit (apple wedges, pear slices, grapes, strawberries, cubed melons, and pineapple chunks work well)
Directions
In a small bowl, blend the yogurt with the honey and cinnamon.
Place bowl in the center of a large plate or platter.
Arrange the fruit around the bowl of dip and serve.

Mini Guacamole Parfaits
By Andrea Correale
Makes 10 parfaits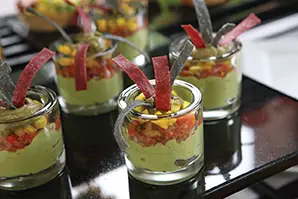 Ingredients
4 ripe Hass avocados
3 Tbsp. lime juice
8 dashes hot sauce
½ cup red onion, diced
1 tsp. kosher salt
1 tsp. ground black pepper
4 plum tomatoes, seeded and chopped
1 jalapeño, seeded and finely chopped
½ white onion, finely chopped
¼ cup cilantro, roughly chopped
1 Tbsp. lime juice
Salt and pepper
Whole-wheat tortilla strips
Low-fat cheddar cheese
For the guacamole
Cut the avocado in half, remove the pit, and scoop into a large bowl.
Add hot sauce, lime juice, onion, salt, and pepper to the avocado, and toss well.
Mash the mixture with a fork until all ingredients are mixed together.
For the pico de gallo:
Combine all ingredients and mix well.
To assemble:
Parfaits can be served in votive glasses or plastic cups for kids. Layer the guacamole and pico de gallo in your vessel of choice.
Top each parfait with low-fat cheddar cheese and whole-grain tortilla strips.

Turkey Tacos
By Andrea Correale
Makes 16 mini or 8 regular tacos
Ingredients
1 Tbsp. extra-virgin olive oil
1 lb. ground turkey
1 small onion, chopped
1 Tbsp. chili powder
Kosher salt to taste
5 ears fresh corn
2 plum tomatoes, diced
1/3 cup finely chopped red onion
1/3 cup finely chopped cilantro
1 Tbsp. extra-virgin olive oil
2 limes, juiced
16 mini or 8 regular taco shells
1 cup reduced-fat cheddar cheese, shredded
For the turkey filling:
Heat olive oil in pan. Add onions and lightly sauté.
Add ground turkey and cook through until brown.
Add the salt and chili powder, and mix well.
For the corn and tomato salad:
Shuck the corn and place in boiling, salted water. Boil until tender, approximately 10 minutes. Let cool.
Shave off corn kernels and combine with the remaining ingredients.
Set the mixture aside to marinate.
To assemble:
Fill the taco shells with the turkey filling.
Top with the corn and tomato salad and cheddar cheese.

Sriracha Chorizo Deviled Eggs
By JUST
Prep time: 30 minutes • Cook time: 15 minutes • Servings: 6
Ingredients
9 hard-boiled eggs, peeled
4 Tbsp. Just Mayo Sriracha, or your favorite mayo spread mixed with your favorite hot sauce
1 Tbsp. Dijon mustard
1 Tbsp. white wine vinegar
1 Tbsp. shallot, minced
2 Tbsp. roasted red pepper, diced small
6 oz. chorizo (or substitute with bacon)
3 Tbsp. fresh cilantro, chopped
½ tsp. smoked paprika
Directions
Cut the eggs lengthwise. Remove the yolks and reserve them in a medium bowl.
Arrange the egg white halves on a tray, cover, and store in fridge until you're ready to fill them.
Mash the yolks until the crumbles start to smooth out.
Add the Just Mayo Sriracha, mustard, vinegar, shallot, and red pepper to the yolks. Fold together until creamy and smooth.
Chill the mixture for 10 minutes to let it set.
Heat a large skillet over high heat and add the chorizo.
With a stiff spatula or spoon, work the chorizo into very small pieces while cooking. Avoid overcooking and drying it out.
Remove from skillet and drain grease from the chorizo.
Stir the cooked chorizo into the yolk mixture.
Place the mixture into a piping bag with a large piping tip.
Pipe egg filling into each egg white half.
Serve garnished with cilantro and paprika.

Buffalo Chicken Stuffed Bell Peppers
By Andrea Correale
Makes 12 servings
Ingredients
12 small bell peppers
2 cloves garlic, smashed
1 Tbsp. salt
1 tsp. thyme (fresh or dried)
4 cups water
1 lb. boneless, skinless chicken breast
¼ cup hot sauce
2 Tbsp. coconut oil
2 celery stalks, shredded
Directions
Cut tops off peppers and remove all seeds. Rinse and set aside.
In a pot, combine water, garlic, salt, thyme, and chicken. Bring to a boil and simmer partly covered for 12 minutes. Remove the chicken and let rest for 15-20 minutes. Shred well with a fork.
Add coconut oil to a pan over medium heat. Add shredded chicken and stir. Add hot sauce and toss until coated.
Stuff each pepper with chicken and top with shredded celery

Mini Tomato and Mozzarella Pita Pockets
By Andrea Correale
Makes 12 pitas
Ingredients
12 mini whole-wheat pita pockets
8 oz. fresh mozzarella cheese, cubed
2 Tbsp. extra virgin olive oil
½ cup sliced grape tomatoes
Salt and pepper to taste
Fresh basil for garnish
Directions
Combine mozzarella, olive oil, and grape tomatoes, and toss well. Add salt and pepper to taste. Allow the mixture to marinate for 30 minutes.
Stuff pitas with salad mixture and garnish with fresh basil. Serve and enjoy!

Vegan Super Bowl Snacks
These recipes from Frugal Vegan by Katie Koteen and Kate Kasbee are vegan (of course), nut-free, and can be made gluten-free if not already; are affordable and easy to make; and will even appeal to meat-eaters. So, enjoy watching the QBs throw the pigskin without any actual pigskins.????
BBQ Chickpea Sliders
Nut-free, soy-free
Splurge: Roasted sunflower seed topping
Serves 4-6 • 15 minutes to prepare
Ingredients
1 (15-oz.) can chickpeas, rinsed and drained
½ cup barbecue sauce
½ tsp. garlic powder
½ tsp. chili powder
Salt, to taste
12 whole-wheat slider buns
1 cup Pineapple Slaw (p. 143 in Frugal Vegan, or your favorite coleslaw recipe)
Roasted sunflower seeds, for serving, optional
Directions
Add the chickpeas, barbecue sauce, garlic powder, and chili powder to a saucepan. Cook over medium heat for 10 to 15 minutes, stirring constantly and smashing about half of the chickpeas with the back of a fork or slotted spoon. Add water 1 Tbsp. at a time if the mixture starts sticking to the bottom of the saucepan. Remove from heat and season with salt to taste.
To assemble, spread a spoonful of the BBQ chickpeas on the bottom portion of a whole-wheat slider bun. Top with a scoop of Pineapple Slaw, and sprinkle with roasted sunflower seeds for some extra crunch, if desired.

Twice-Baked Potato Bites
Nut-free, soy-free, gluten-free
Splurge: Use fresh chives in place of dried
Serves 4-6 • 60 minutes to prepare
Ingredients
2 lbs. red new potatoes (about 14), halved
1 Tbsp. olive oil
Coarse salt and ground pepper
¾ cup Vegan Sour Cream (p. 167 in Frugal Vegan, or your favorite recipe)
2 Tbsp. chives, plus more for garnish
Directions
Preheat the oven to 450 degrees. Line a rimmed baking sheet with parchment paper.
Cut a thin slice off the bottom of each of your halved potatoes, so they sit flat. In a large bowl, toss the potatoes with oil; season with salt and pepper and arrange bottom-side down on the baking sheet. Bake until tender, 30 to 35 minutes. Let them cool on the sheet.
When the potatoes are cool enough, scoop out about a tsp. from the center of each potato and place in a medium bowl. Add vegan sour cream and chives, and mash; season with salt and pepper. Stuff the potatoes with the filling.
Bake the potatoes until lightly browned, about 15 minutes.

Sun-Dried Tomato White Bean Hummus
Nut-free, soy-free
Splurge: none
Serves 4-6 • 5 minutes to prepare
Ingredients
1 15-oz. can white beans, drained and rinsed
½ lemon, juiced
2 garlic cloves, minced
¼ cup sun-dried tomatoes, chopped
¼ cup olive oil
¼ tsp. salt
1/8 tsp. pepper
Directions
Combine the white beans, lemon juice, garlic, sun-dried tomatoes, olive oil, salt, and pepper in a food processor. Blend until the hummus is completely smooth. Adjust seasonings to taste.
Transfer the hummus to an airtight container and chill in the refrigerator until ready to eat. Serve with sliced veggies, pita chips, or slathered on your favorite bagel.