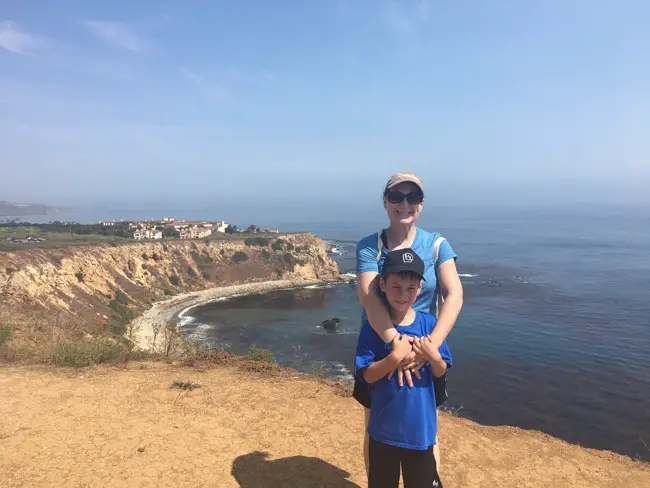 A Family Adventure on California's Southern Coast
A memorable mother-son weekend at Terranea Resort included whale watching, nature hiking, plenty of swimming--and taking in the amazing views.
Get can't-miss family activities sent to you!
Get the Best Family Activities
Sent to You Weekly!
Pool Time at Terranea Resort
If it were up to Matthew, we'd be at the pool 24/7, so we rented a cabana for the day and it proved to be one of the highlights of the trip for him. The cabana came with an indoor room that had a couch, table, and a refrigerator with water, sodas, and juices--plus a TV. Just outside the tent were two lounge chairs, a large shady umbrella, and plenty of towels. We also ordered dinner here—sandwiches, salads, fruit, and cookies—and spent about 7 hours there. There are four pools on property, and we were at the family pool, which had a basketball hoop, two hot tubs, and again, those amazing views.
Food Choices at the Resort
The resort has no shortage of food options. We had Belgian waffles piled high with fruit (mine) and chocolate chips and whip cream (Matthew's) from Sea Beams. We also bought a s'mores kit from Sea Beams and roasted marshmallows at the pool's fire pit each night (one kit goes a long way).
One of my favorite spots was Nelson's. Located right on the water, it had the best views of the ocean--we saw tons of dolphins from our picnic table. The fish there was fresh and delicious. Mar'sel, the resort's signature restaurant, had an amazing brunch as well as a fancy dinner option. Catalina had the best omelets and avocado toast, while Bashi had amazing sushi (for me) and shaking beef (for Matthew).
Kids Clubs and Spa at Terranea
As much as this was a special mommy-son trip, I never say no to a little spa time, so I put Matthew in the resort's camp for one morning while I treated myself. The massage was really nice, but what I really loved was just sitting outside in the spa lounge overlooking the ocean and listening to the sound of the waves crashing below.
Turns out Matthew had as much fun at the kid's program as I had at the spa. He personalized a canvas backpack with beautiful rich hues and drawings, made a picture frame, went for a walk to find lizards, and made new friends. He so enjoyed the kid's camp that he asked if he could go the next day.
While everything about the weekend seemed relaxed and easygoing, what I especially loved was the laid-back vibe of the place. From the restaurants, to the adventure concierge to the pool staff, everyone was so warm and welcoming.
On our last morning, we spent time at the pool before doing one last walk along the beach. We both decided we loved it at Terranea and could easily spend a week here. A long weekend is do-able from New York, but spending more time here is definitely worth it.
RELATED: Looking to get away closer to home? Download our guide to the best area day trips.