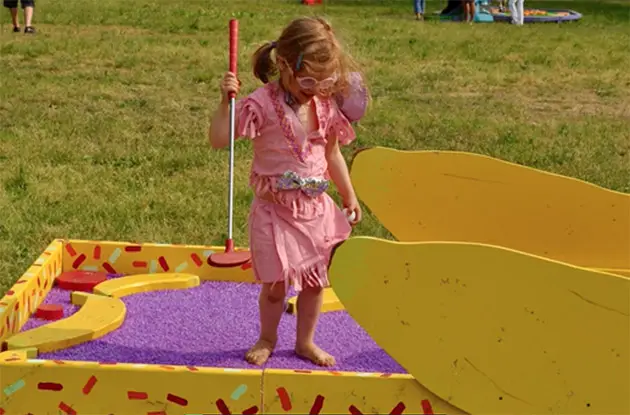 FIGMENT's Artist-Designed Mini Golf Course on Governors Island Needs Your Help
Want more family activity ideas?
Get things to do with your kids
Delivered right to your inbox
The mini golf course is free for visitors and is often visited by camps and school groups from underserved communities. It has been open for the past nine summers on Governors Island.
"FIGMENT's Artist-Designed Miniature Golf Course is an only-in-New-York-City experience, and the 2017 course will be the most imaginative and interactive yet. Check out the fabulous lineup of rewards on our Kickstarter page and help bring 'NYC Has the Beat' to life. Then come on over to Governors Island this summer and play it!," states mini golf curator Tad Philipp on the Kickstarter page.
The Governors Island Kickstarter campaign ends on Thursday, Feb. 2.
UPDATE: The Governors Island Kickstarter campaign was succcessful, raising $25,432—exceeding the $25,000 needed—to support the miniature golf course.

Main image: A young girl interacts with FIGMENT's mini golf course on Governors Island.
Courtesy Governors Island

RELATED: Take a Family Outing to Governors Island
Want more content like this? Receive our Scoop packed with great ideas