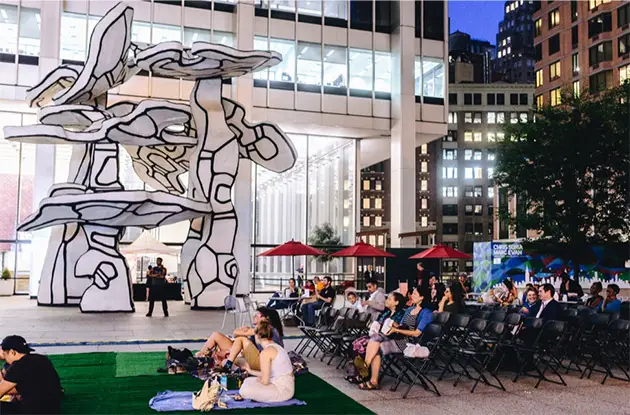 Fosun Plaza's Free 'Throwback Thursday Film Series' to Begin in July
Get family activities sent to you
Get things to do with your kids
Delivered right to your inbox
Fosun International Limited, founded in 1992, is a family-focused multinational company. Fosun and 28 Liberty are named as a 2018 recipient of the BCA 10: Best Businesses Partnering with the Arts in America Award, for its long-term commitment to supporting arts and culture both internationally and in the United States through Fosun Property Holdings.
"Fosun is pleased to welcome back the 28 Liberty Summer Film Series, continuing on our commitment to activate the plaza for the community," said Mr. Bo Wei, chief executive representative of Fosun Group in the U.S. andvice president of Fosun Property Holdings, in a press release. "We are pleased that Fosun Plaza has become a destination for events such as the movie night series, River to River, Sing For Hope Pianos and Dine Around Downtown."
28 Liberty is a quintessential piece of Lower Manhattan for leisurely recreation and dining. The space is constantly improving with additions of restaurantsand event spaces.. Alliance for Downtown New York aspires to make Lower Manhattan a multi-faceted and dynamic destination to live, work and explore.
Want more content like this? Receive our Scoop packed with great ideas