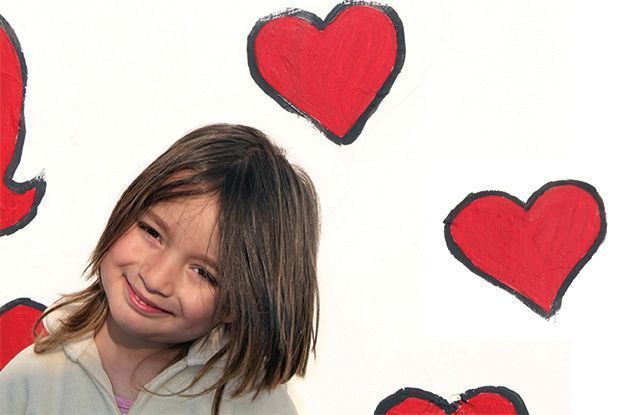 14 Fun Ways to Celebrate Valentine's Day with Your Kids
Get kid-friendly activities sent to you!
Get the Best Kid-Friendly Activities
Sent to You Weekly!

8. Plan a kid-friendly party.
Now that the house is decorated, invite a few of your children's friends (or just their stuffed animals) to a party. Find free printable templates for games such as Valentine's Bingo or Tic-Tac-Toe online. Decorate cupcakes or heart-shaped cookies with pink frosting and sprinkles. Make guests feel special by serving a sparkling pink punch made of equal parts pink lemonade and strawberry-flavored sparkling water in plastic champagne flutes.

9. Make chocolate-covered strawberries.
Even kids appreciate this classic Valentine's Day treat—and if you buy a container of microwavable dipping chocolate, it's one they can (almost) make without help. Dip strawberries into melted chocolate, then set them on wax paper to harden. Wrap up these sweet treats to give as a gift, or, even better, enjoy them yourselves!

10. Go on a scavenger hunt.
Create a Valentine's Day scavenger hunt for the whole family by writing clues on paper hearts and hiding them all over your home. Each clue should lead participants to the next and, finally, to a special gift or message at the end.

11. Encourage a love of reading.
A book such as Sam McBratney's Guess How Much I Love You is perfect to read aloud on Valentine's Day. Or introduce your family to Robert Sabuda's Saint Valentine, which tells the story of the ancient Roman priest and physician for whom Valentine's Day is thought to be named. Go to nymetroparents.com/love-books for 10 favorite kids' titles for the holiday.

12. Commit Random Acts of Kindness.
Did you know that Valentine's Day falls during Random Acts of Kindness Week (Feb. 9-15)? Spend Feb. 14 performing kind gestures in your community. Smile at everyone you see. Deliver flowers to an elderly neighbor. Challenge your kids to see who can commit the most acts of kindness throughout the course of the day—or better yet, the whole week.

13. Enjoy a family date night.
Skip the reservation for two and take the whole family out for a night on the town instead. Get dressed up in nice clothes and dine at a restaurant you all enjoy. End the evening with a horse-drawn carriage ride or a trip to an outdoor ice rink to skate together under the stars.
14. Say 'I love you.'
How often do you say those three simple words out loud? No matter how else you choose to celebrate Valentine's Day, there's no better way (or day) to let your children know just how special you think they are.