The Galápagos Islands with Kids—Yes!
Get fall family activities sent to you!
Great things to do with your kids
Delivered right to your inbox
The Galápagos penguins are the smallest of their kind in the world.
Post Office Bay
Also located on Floreana, this tiny bay may not look like much, with its weathered wooden barrel and graffiti-like signs, but it's a truly cool spot. Bring a postcard and drop it in the barrel—no postage required. The idea is that a future traveler heading in the direction you've addressed your card will pick it up and hand-deliver it for you. So of course, you'll want to return the favor by delivering one of the addressed cards to its intended destination—and you'll be carrying on a tradition that dates back to the 18th century.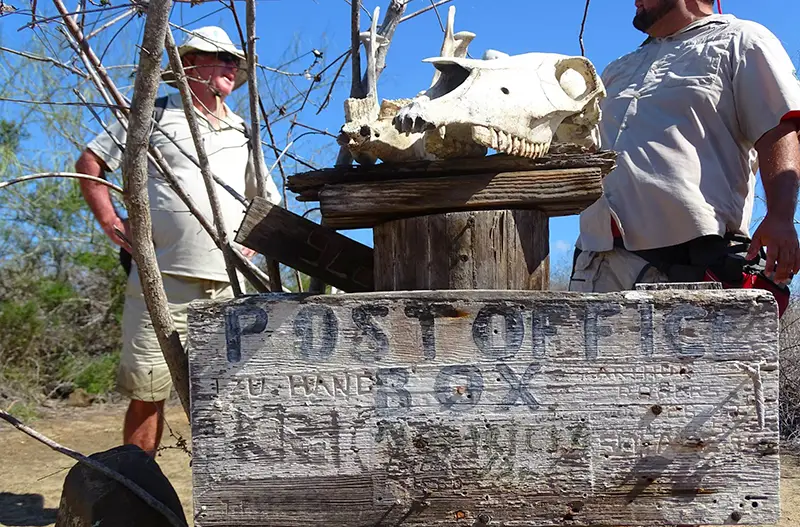 Don't let the skulls scare you off! There's nothing spooky about a stranger hand-delivering a postcard you left in a barrel on a remote island...right?
Bartolomé Island
The most photographed island in the Galápagos is the place astronaut Buzz Aldrin described as the closest thing to a "moonscape" he'd seen on Earth. Not many species thrive on this island, but the landscape is incredible and you can climb to the top of an extinct volcano (about 300 stairs will lead you there easily) for stunning views.
Fans of the 2003 film Master and Commander might recognize this landscape from the silver screen.
Española Island
Here you'll find a sea lion "kindergarten," where the mother sea lions "drop off" their babies for playtime while they scout the waters for food. The shore here is relatively safe for the small sea lions, as the waters are shallow and mostly protected from sharks and other predators. The little lions flip, float, and wiggle with their peers just off the white sand beach, strengthening their swimming skills for the deeper waters.
Española is also home to a clan of Christmas iguanas—can you guess how they got their name?
Puerto Ayora
This port town on Santa Cruz is the social heart of the Galápagos, with a population of 12,000, the highest of any of the islands. There are plenty of shops here to pick up souvenirs.
Things to Know Before You Go
Be wary of the drinking water. As with most trips south of the border, you'll want to be careful not to drink tap water in Ecuador or the Galápagos Islands, as it could contain parasites that will make you sick. Choose bottled water over tap, both for drinking and brushing your teeth. Opt for no ice cubes in your beverages and skip salads and other produce that may have been washed in tap water and then served raw.
Be prepared for the plumbing. Plumbing in Ecuador and the Galápagos Islands is different than in the U.S. The pipes in these countries aren't built to handle paper products, so all paper waste (yes, including toilet paper) goes in the trash, not in the toilet.
Put down the iPhone. Wifi spots are plentiful in town, but non-existent on the unpopulated islands (only four of the dozen or so islands are populated) or on most of the cruise boats. Snap away with your smartphone camera, but don't bank on live tweeting your photos during the trip.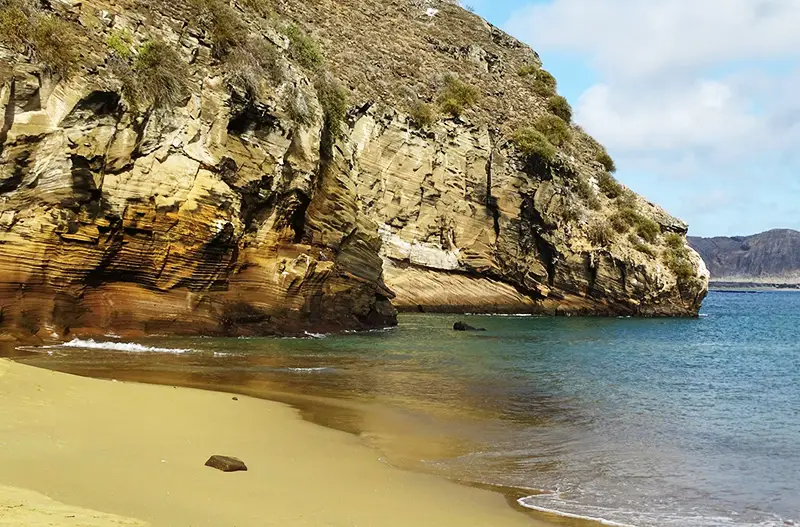 White, golden, green: Each beach is different in the Galápagos. You can find this green-sand beach on Punta Pitt, on the east end of San Cristóbal Island.
Leave your shampoo at home. If you're staying on an Ecoventura boat, that is. The company encourages guests to use the biodegradable (read: eco-friendly) soap, shampoo, and conditioner provided in each cabin.
Be selective about souvenirs. Steer clear of tchotchkes made with black coral or animal parts such as bones or feathers—buying these supports a practice that's dangerous to the Galápagos ecosystem.
Respect the rules. Most of the Galápagos is governed by the Galápagos National Park Service, which sets specific rules for tourists. Visitors must stay on the marked trails on each island and maintain a distance of 2 meters (about 6 feet) from wildlife (yes, this rule applies to those cute baby sea lions, too).
Shield your skin. You'll be on the equator, where the sun can be fierce. Pile on the sunscreen, and remember to reapply.
Plan for seasickness. If you're cruising or even just taking day trips to the islands, you'll want to take steps against seasickness. Consider a transdermal patch (some last up to three days) or at least have Dramamine on hand.
Bring a good camera, and a GoPro is also a good bet. From rare blue-footed boobies to beautiful white-sand beaches, you won't want to miss the photo ops on these magnificent islands.
What to Pack: Essentials & Extras
For a smooth trip, be sure to bring:
• Passport. The Galápagos are part of Ecuador, so every family member will need a passport to get there. (No immunizations are currently required to visit, but check with your local health office at least two weeks before your trip for any updates.)
• Several bathing suits
• Casual clothes for hiking, kayaking, etc.
• Sunscreen (lots of it!)
• Pepto Bismol for any potential tummy troubles
• Electrolyte packets, to help with recovery after seasickness
• Oro-dry or other medicine to treat swimmer's ear
• Advil/painkiller, for sunburn or other aches and pains
• Prescription Sudafed, to help ease ear pressure during the plane ride and/or snorkeling
• Games or electronic devices that don't require Wifi
• Star map for stargazing (the constellations are much different on the equator, and on a clear night there's no telling how many you'll see!)
After a day spent playing with sea lions, spotting sea turtles, and swimming with penguins, the Galápagos sunsets will still take your breath away.
Main photo: The Sally Lightfoot crab, also known as a red rock crab, is common on several islands in the Galápagos.
All photos by Kaitlin Ahern and Brian Miller
Want more content like this? Receive our Scoop packed with great ideas