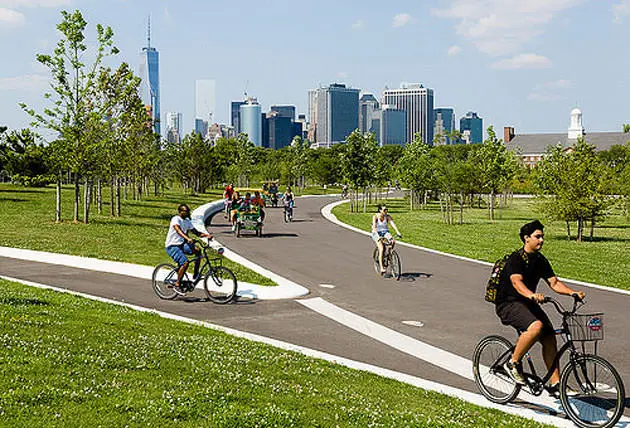 Governors Island Set to Open for the Summer on May 1
The iconic Governors Island is starting its 2021 season on Saturday, May 1. Here's what you need to know.
Get kid-friendly activities sent to you!
Get the Best Kid-Friendly Activities
Sent to You Weekly!
How is Governors Island keeping visitors safe from COVID-19?
Governors Island's 2020 health, safety, and social distancing protocols will remain in place to keep everyone safe this summer. This includes:
Mandatory ticket reservations to manage capacity and ensure social distancing on ferries
Face coverings must be worn while queuing, boarding, riding, and disembarking Governors Island ferries, and on the island whenever social distancing is not possible
Maintaining social distancing of at least 6 feet between groups
Increased cleaning for all restrooms, ferries, and in high-touch, high-traffic areas across the island
Enhanced health and safety protocols for all food and drink vending locations
Hand sanitizer and hand washing stations located across the island
In-person tours are cancelled for the time being
For Jay and Castle Williams are temporarily closed
The Welcome Center will be closed, but Visitor Services Staff will be available across the island
Groups are encouraged to limit themselves to 20 individuals
What can I do on Governors Island?
Families who visit Governors Island can take advantage of a variety of outdoor fun, including:
7 miles of car-free bike paths
Parents can relax in Hammock Grove while the kids have fun on the play structures nearby
Slide Hill, featuring 4 slides (including a 3-story tall one!)
Kids can build, explore, play, imagine, and destroy in The Yard (open weekends, 12-4pm), a play:groundNYC space just for ages 6-18
A variety of ongoing arts, education, and cultural programs
Bring a picnic or buy lunch from one of the food vendors on the island, including Island Oyster, Taco Vista, Joe Coffee, Fauzia's Heavenly Delights, Little Eva's, Kimchi Taco Truck, Makina Café, Melt Bakery, People's Pops, Terry & Yaki, Threes Brewing & The Meat Hook, Pizza Yard, and Sea Biscuit.
Information About Visiting Governors Island
How do I get to Governors Island?
Round-trip ferries to Governors Island leave from 3 locations:
How much does the Governors Island ferry cost?
Round-trip ferry tickets are $3 for ages 13 and older and free for children ages 12 and younger, IDNYC holders, military members (current and former), New York City Housing Authority residents, and seniors ages 65 and older. Ferries before 12pm on Saturdays and Sundays are free for all passengers.

Governors Island is still offering online services if you are either sick or not comfortable traveling at this time. Visit govisland.com to check out Governors Island at Home to learn more about the park.