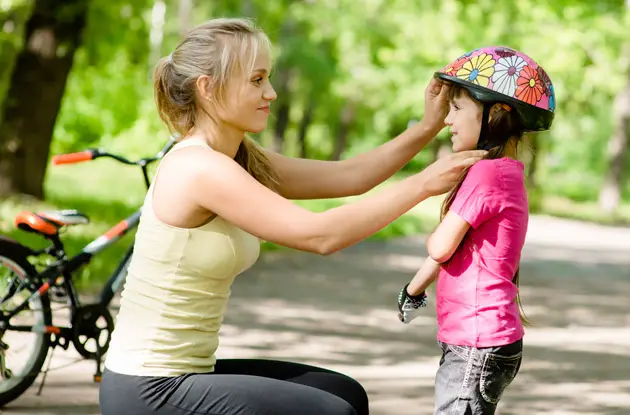 How to Keep Kids Safe During the Summer Months
From bug bites and allergies to trampoline, firework, and bike safety, these tips will keep your family out of the ER this summer.
Get family activities sent to you
Get things to do with your kids
Delivered right to your inbox
Everyone needs to wear a helmet when riding a bike. Parents should wear a helmet to set an example for their children. If your children see you wearing a helmet, they are more likely to wear one. It's important to educate children on helmet safety to reduce the risk of head and brain injury.

How do I choose the proper helmet for me and my children?
A proper helmet fits snug on the head but isn't tight. It should cover the forehead but won't tip forward or backward.
When the straps are fastened, two fingers should be able to fit between the chin and the strap.
Protective gear such as wrist, elbow, and kneepads should also be worn when riding a bike.

Fireworks Safety
Which fireworks are safe?
Parents need to be aware that no fireworks are safe for children. Many children play with sparklers, but they can reach temperatures between 1,000-1,200 degrees Fahrenheit and can cause severe burns, blindness, scars, and even death. It is better to take children to a professional fireworks show than to set them off at home.

Trampoline Safety
How safe are home trampolines?
Even when children are supervised by an adult while jumping on a trampoline, there is a risk of serious injury.
The netting around the trampoline does not prevent injuries. In fact, most injuries occur on the trampoline and not as a result of falling off of it.
One child should jump at a time; 75 percent of trampoline injuries occur when more than one person is jumping at the same time.

Preventing Dehydration
How often should I drink water to prevent dehydration in warm weather?
Drinking water every 20 minutes will help prevent dehydration in warm weather. The goal is to stay hydrated to avoid overheating.
Drink plenty of fluids before going outside and when you're outside.
Want more content like this? Receive our Scoop packed with great ideas