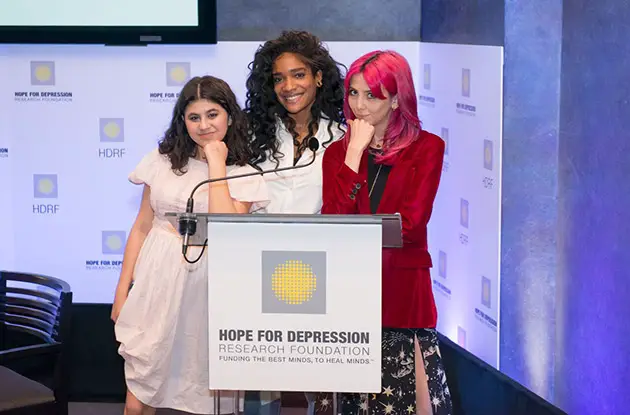 'Teens, Social Media, and Mental Health:' Hope for Depression's Annual Public Symposium
"We need to teach kids to have a positive digital footprint."
Get kid-friendly activities sent to you!
Get the Best Kid-Friendly Activities
Sent to You Weekly!
Teen and young adult users who spend the most time on Facebook have a 66 percent higher rate of reported depression versus the 13 percent of those who spend the last amount of time, according to recent studies.
What can we do?
For teens, it can be close to impossible to realize when social media is doing more harm than good to your mental health. Psychiatrist Dr. Chai urged the teens in the audience to constantly ask themselves questions and to check in on themselves when using social media. If something online is making them feeling upset, they should take a break for a few days and talk to a trusted adult about their feelings.
Parents need to get involved where possible because adolescent brains are still developing and can lead to impulsive decisions and posting.
"We need to teach kids how to have a positive digital footprint," said Dr. Uhls. "Parents need to be role models and have a positive digital citizenship."
Dr. Uhls encouraged parents to take advantage of teachable moments, for example a social media scandal in the news.
While some of these statistics may be scary, social media is here to stay and there are countless positives involved with raising your teen in the digital world. Dr. Harris advises parents, family, and friends to pay attention to warning signs and, if you see an abrupt change in your teen's social media usage, check in.
Get help
911 – If you see suicidal messages or disturbing content, 911 should be the first thing you do, before going through social media sites reporting process.
TXT 4 HELP, Safe Place
Suicide Prevention Life Line: 1-800-273-8255 or text 741741
Image: Hope for Depression Research Foundation (HDRF) public symposium "Teens, Social Media, and Mental Health" panelists. Left to right: Em Odesser, Elyse Fox, Scarlett Curtis