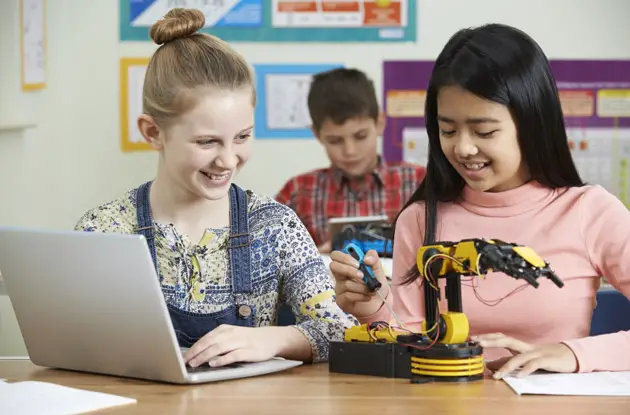 Why Art Was Added to Science, Technology, Engineering, and Math Education
How the arts play an important role in your child's science, technology, engineering, and math education
Get kid-friendly activities sent to you!
Get the Best Kid-Friendly Activities
Sent to You Weekly!
STEAM advocates, on the other hand, see art's presence as just surfacing a discipline that was already involved and integral to learning STEM topics.

Arts make STEM topics more engaging—even to kids who don't think they like science or math.
Does your child say, "I hate science" or "I'm just not good at math"? These phrases can start early but including the arts in learning can be transformative for some kids.
It's easy to find memorizing a long litany of facts and formulas unappealing, but Heinecke points out math is also a language that helps us describe the universe. If we can get kids to see math as art and beauty and nature, that changes the way they think about the world and the way they approach subjects in school," Heinecke says.

Doing hands-on projects and experiments that involve the arts solidifies a child's understanding of concepts.
Take tessellations—they're a pattern of repeated shapes without any gaps. Think: the tiles on your kitchen backsplash or bathroom walls. Explain the concept and it's possible kids will follow, but also possible they'll be intimidated by the long word or struggle to find the relevance.
A better option? Have kids create tessellations of their own, Heinecke suggests. This is a project in one of her books, done using candy wrappers or dried pasta as the pattern-making device. By creating tessellations, kids see the concept in action and may be inspired to seek out other tessellations in nature (the design on the back of a turtle's shell, for instance). Plus, the creation process is most likely more memorable than a lecture or slides.

STEAM connects your child's interests to the real world.
Watch any popular cooking show (say, The Great British Baking Show, Top Chef, or MasterChef Junior) and you and your kids will see science and art, and possibly engineering and technology, in action, Heinecke points out. There's the wizardry of sous vide cooking, the science to temper chocolate, architectural decorations, and so on.
"Kids connect best with things when they can touch, see, or understand how to use it everyday life," Heinecke says. "One great thing about adding the arts is that it's just another way for kids to connect their interests in the real world to the STEM disciplines."
RELATED: Find STEM and STEAM After-School Classes Near You

The arts show children how to be creative problem-solvers, and the value of mistakes.
Amazing engineers aren't good at their jobs because of their fast, mental arithmetic or equation-solving abilities. Those are important skills, but it's creative approaches to problem solving that truly make the difference between a flip phone and an iPhone.
"People come from all around the world to be educated in the United States because kids here learn to be creative. A big part of that is art," Heinecke says. "Art forces you to be creative and brings you out of your shell."
And, art gives kids a place to make interesting mistakes and challenge themselves. "Our kids don't have enough space to be creative," she says. "Art gives kids an arena where there isn't always a right answer."

Art reduces STEM's intimidation factor—and helps raise informed children.
In day-to-day life as grown-ups, even if we work in fields and industries far removed from STEM, we need to have a basic understanding of the topics involved.
"Not every kid has to be a scientist or engineer, but the more you embrace the STEM disciplines, the better citizen of the world you'll be," Heinecke says. "The more well-informed people are as children, the more they'll grow up to be well-informed adults."

How Parents Can Encourage STEAM Learning at Home
Avoid any kids' play or building kits that do not encourage creative, independent thinking, Speake advises.
"It is not STEM (or STEAM) if there is little creativity in the solving of problems," Speake says. There's little value to kits where each child builds the same projects, without options for individualization and exploration, she says.
Heinecke's advice is simple: "Throw some math tools in with your kids' art supplies." Rulers, protractors, and compasses are all fair game.
And highlight the moments when disciplines overlap, Heinecke says. As your child learns about patterns and shapes, let her know this is geometry, a type of math.
Ultimately, Heinecke says, a big goal is to make kids comfortable and familiar with STEM before they hit middle school. And inclusion of the arts can help, she says. "The idea is really to get kids engaged—and keep them engaged."